Pictures around the house May 2016
Some of the radios are for sale and some are not for sale
Please notice that some information is in
bold underlined type.
Those radios are for sale.
radios shown in regular type are Not for Sale as they are in our collection.

OOPS Where did this come from? Yes the Ham Station is new state of the art electronics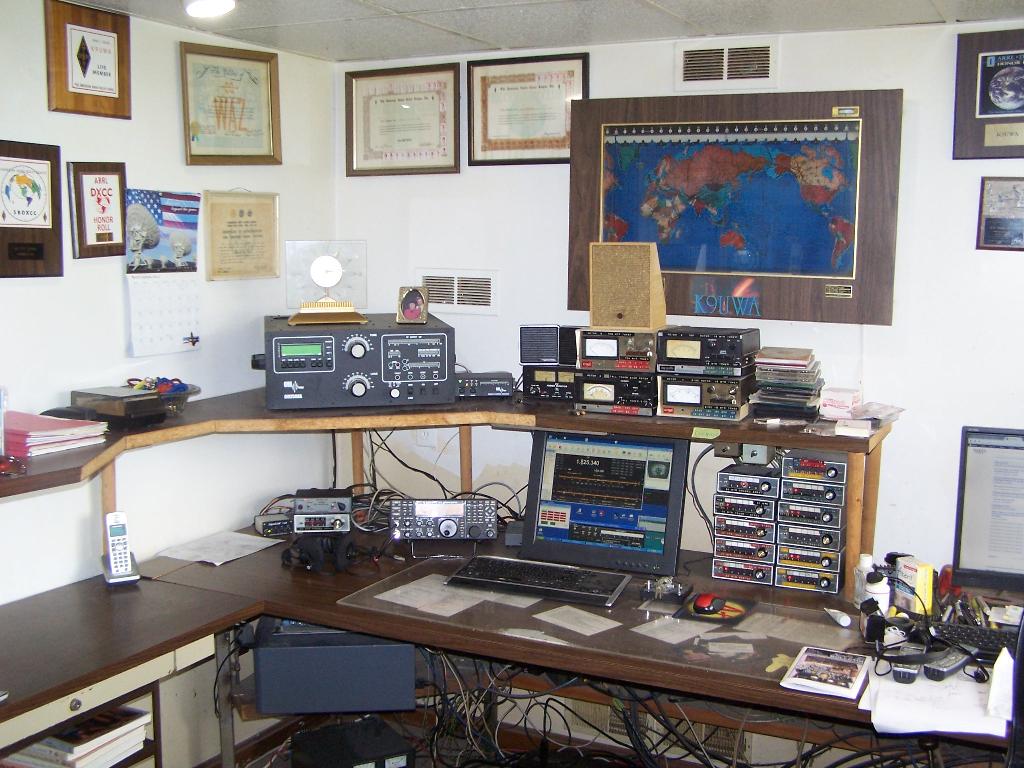 In my Ham Shack my "Daily Player Console" Zenith 15U269
And yes that is an early RCA 45 player along with a crystal set a very primative radio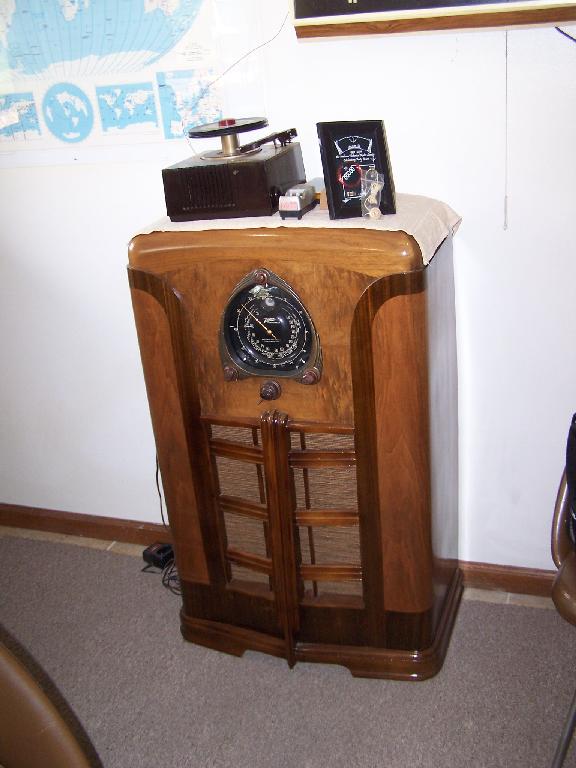 And in the corner of my Ham Shack a Zenith Walton 9s232 plus a "Mic Radio" from WAWK which is a small local
small town Station The Baby Grand Piano including the correct piano bench. It is actually a Crosley Radio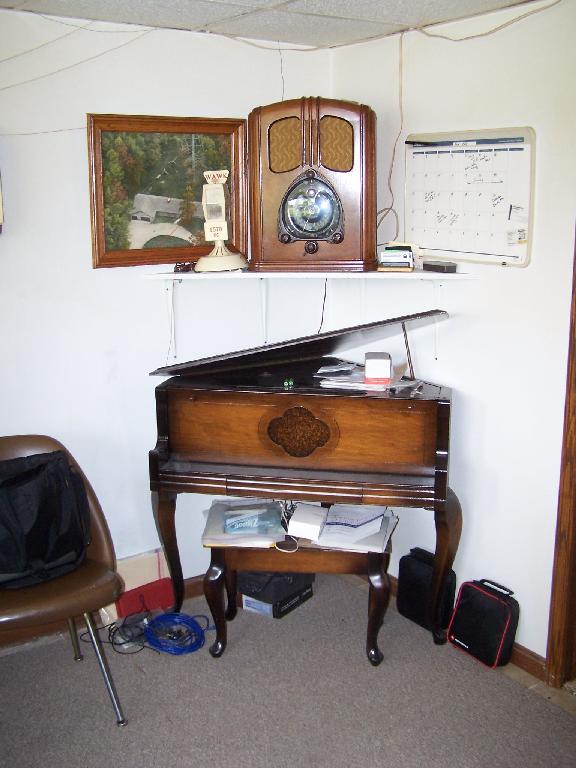 Many of these are Emerson radios from Jean's collection.
See the Emerson Page for all 100 of the Emerson Ingraham radios in Jean's collection.
Jean's Ingraham Emerson Collection
Top Right corner is a radio simply called a Silver Radio
Midway down the middle a Detrola table radio. On below it another Detrola radio.
Two

For Sale Philco 37-604T $895


Below the shelf unit a Zenith 10s130 and a

For Sale Zenith 9s30 $1595


Buried in the corner is a GM Ash Tray Remote Converter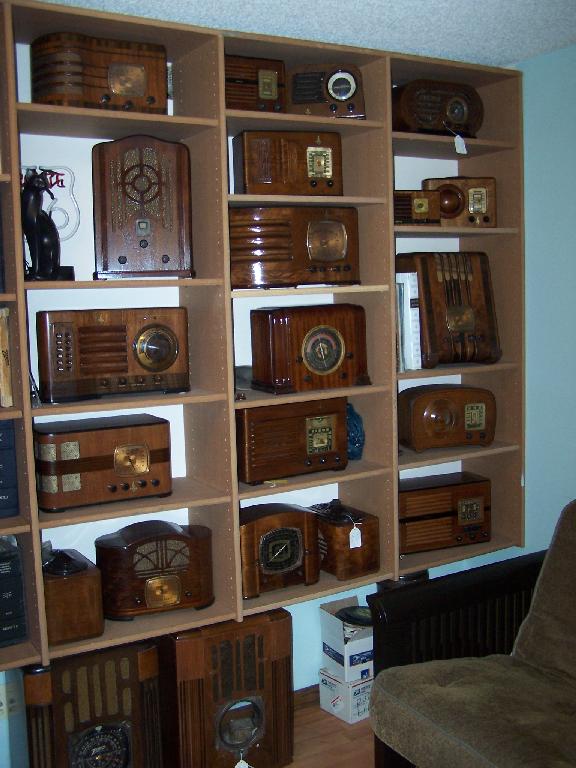 My Service manuals Rider books 1 to 23 covering US built radios from Day1 up through 1953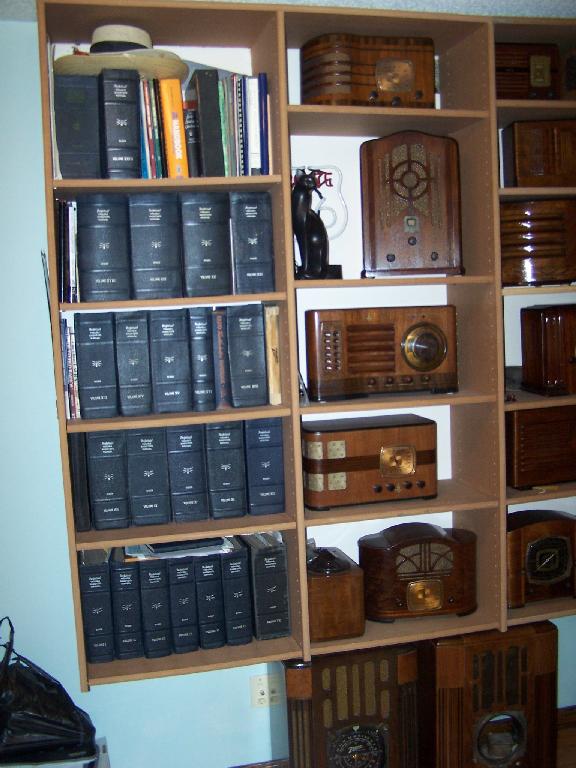 Welcome to the "Big Dog" Console Collection.
Zenith 1000Z Stratosphere note the size difference to the transistor Zenith portable on top of the Stratosphere.
The Zenith Stratosphere 1000Z is a 25 tube radio which sold in 1935 for $750. At that same time you could purchase a brand new Ford Model A for $650
The Audio Amp in the Strat runs 8 type 45 tubes. 50 watts of tube undistorted audio. Painful to the ears if you crank it up. The Stratosphere is setting on an original Zenith Dealer Lazy Susan.
To the right a Zenith Junior Stratosphere model 16A61 This one only a 16 tube dual chassis radio. Still a very nice radio for those who didn't want to pop for the 1000Z
And on top one of Jean's rare Emerson Table radios.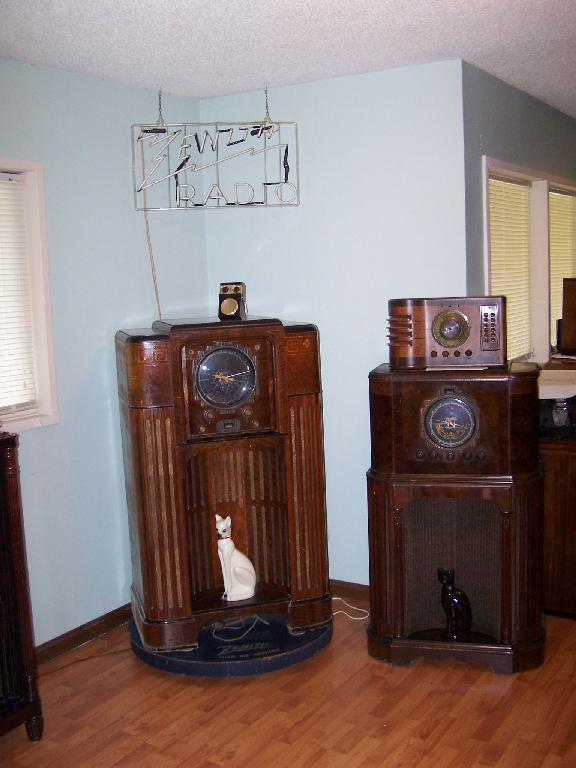 Philco's competition to the Zenith Stratosphere Model 37-690 which is a dual chassis 20 tube radio.
It is one super playing console radio.
And on top of it a Zenith Yacht Radio model 6B107. Yes it and the speaker next to it were sold by Zenith
in 1937 to be used on your "Boat" or in your RV Trailer. It is / was a 6 volt powered radio.
Only about 1000 of them were ever sold. They are today very rare to find a complete radio and speaker.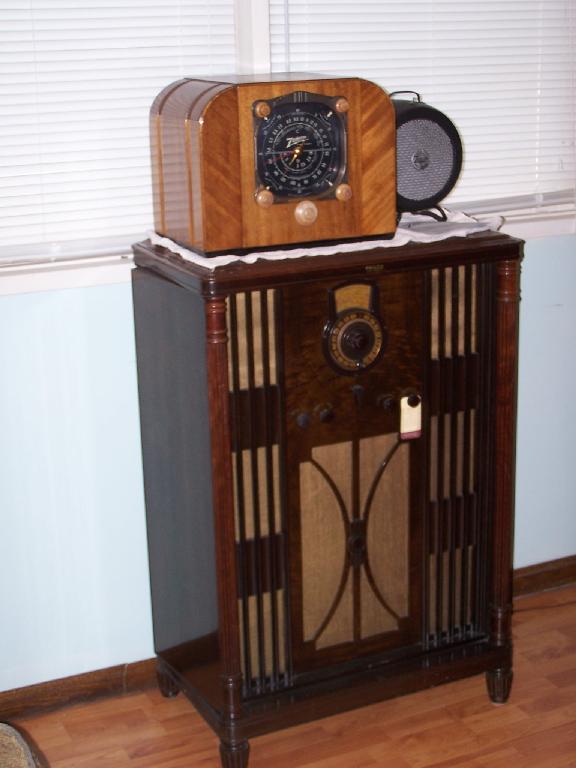 Moving right along on the Big Dog Consoles The Chrome one on the left is a McMurdo Silver Masterpiece Six with a Clifton Cabinet. It is a dual chassis
24 tube radio. McMurdo Silvers competitor to the Zenith Stratosphere. This receiver will rival the sound and ability of the Zenith 1000Z.
To the right not quite a big dog but very close is a General Electric model E155 Colorama Tuning 15 tube console. It runs a pair of 6L6 tubes
in the audio output at 30 watts.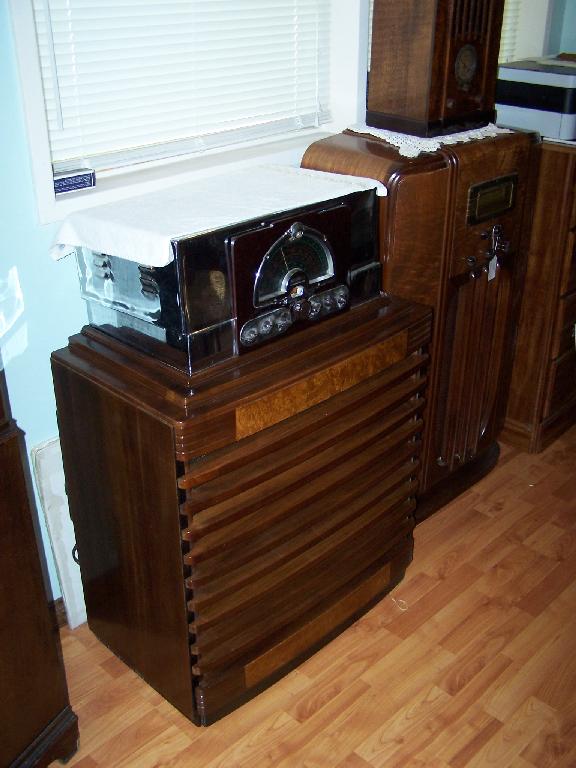 And then on the left The other "Silver Company" Scott Philharmonic late version 9 knobs and 30 tubes in this dual chassis all chrome
plated chassis radio. Yes it has the Tweeter Option. On the Right is a 12 tube Majestic 5 band console that also runs a pair of 6L6
tubes in it's audio amplifier. It has a most interesting dial with the 5 bands all done in yellow reverse etched printing and the Dial Bulb is the tuning indicator.
On top of these are three more of Jean's Emerson radios.
See the Emerson Page for all 100 of the Emerson Ingraham radios in Jean's collection.
Jean's Ingraham Emerson Collection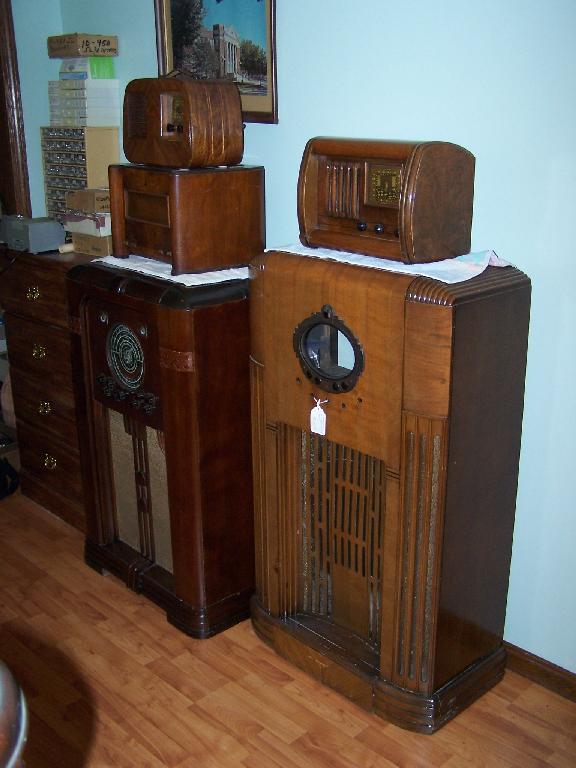 Radio Dislay Room

Next three pictures
Top Row Philco 41-221 $395, Zenith table radio, Pair of Detrolas, Emerson, Radio by Radio, Zenith 6s321, Majestic, Detrola, Mickey Mouse
row 2 Zenith 808 ON HOLD $495, Zenith 5S327 $695, Majestic Treasurechest, Zenith 6S527 ON HOLD $445
row3 Zenith 6S532 $495 , Sparton Bluebird, Music Masters Horn, NicNacks, Radio Doll, Zenith , Zenith Radio/Phono
row4 Philco butterfly $795 emerson, Emerson, Emerson, AK10C Breadboard, Emerson, Emerson
row5 Wells Gardner WG24, Zenith 805 cathedral $695, Emerson, AK 768 cathedral $795, MinnieMouse, Zenith 835 Tombstone, SW Spade, Ozarka
row6 Truetone D724, Airline movie dial table radio $695, Motorola dual speaker 5T5 $695 , Pilot model TV-37 with brand new picture tube $995

on the floor to the left
Philco 40-180 sorry already spoken for, Philco very rare model 14TX with correct remote speaker, Zenith 7s28 Tombstone
on the floor to the right
Stromberg Carlson super rare "Coffee Table" model 231-F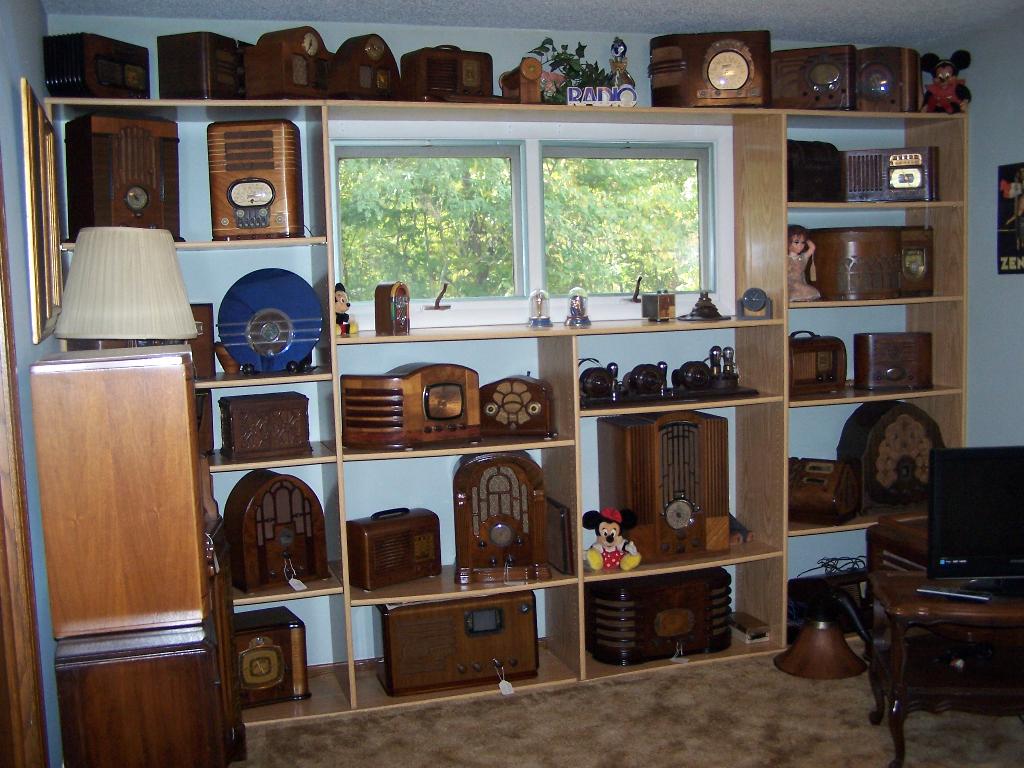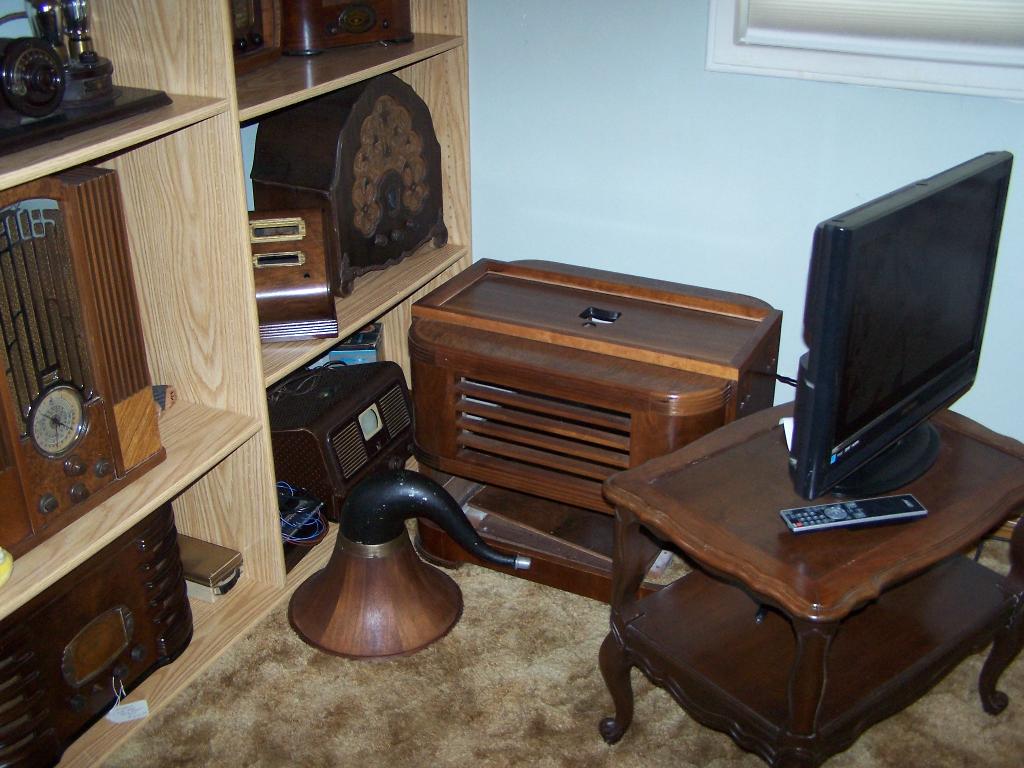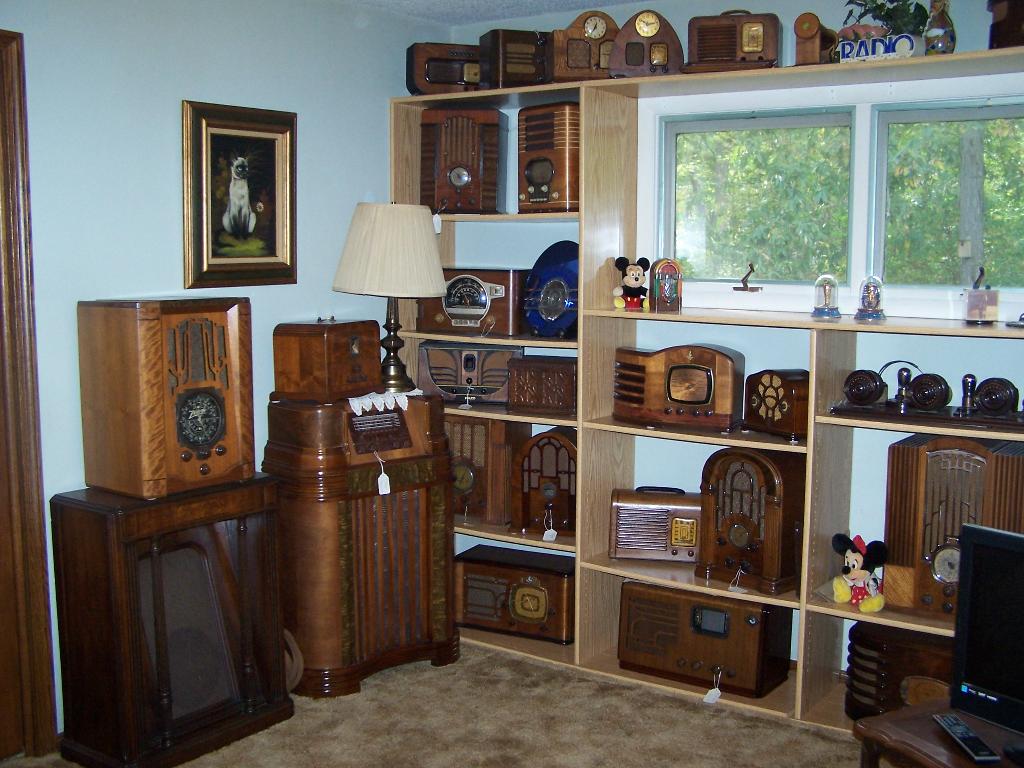 Three of Jean's Ingraham Emerson radios. So see all of them click up our Emerson Page
Jean's Emerson Page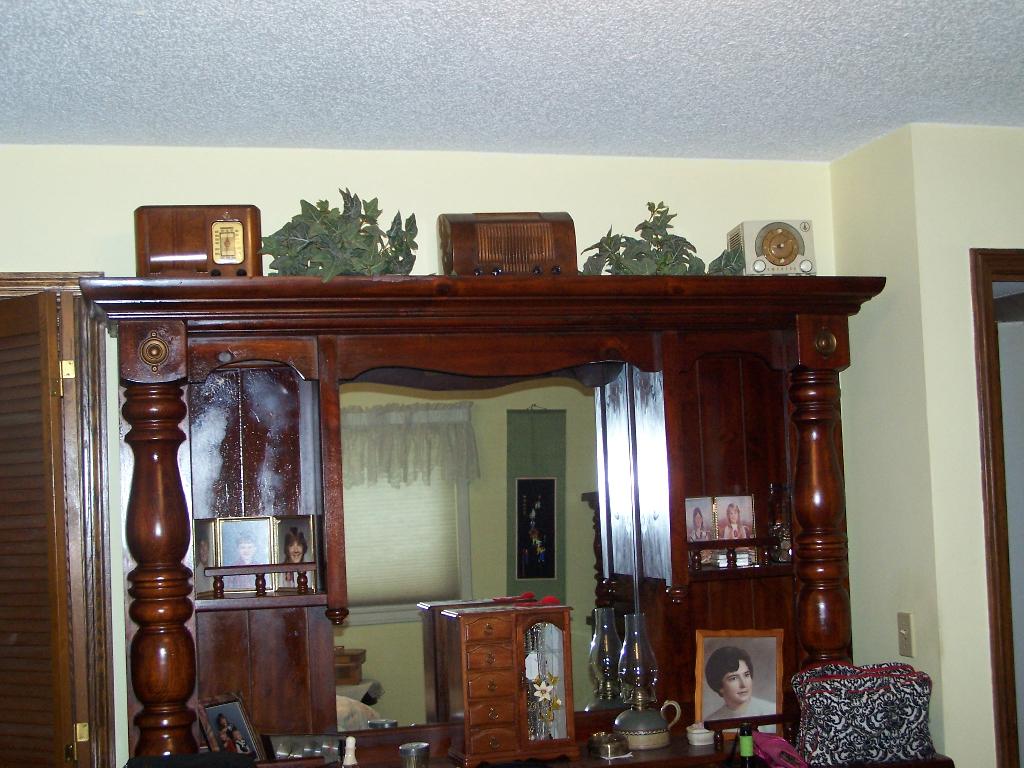 Early battery powered small console radio. Batteries to be 1.5V and 90V yes I have a "Battery Eliminator" Power supply inside the radio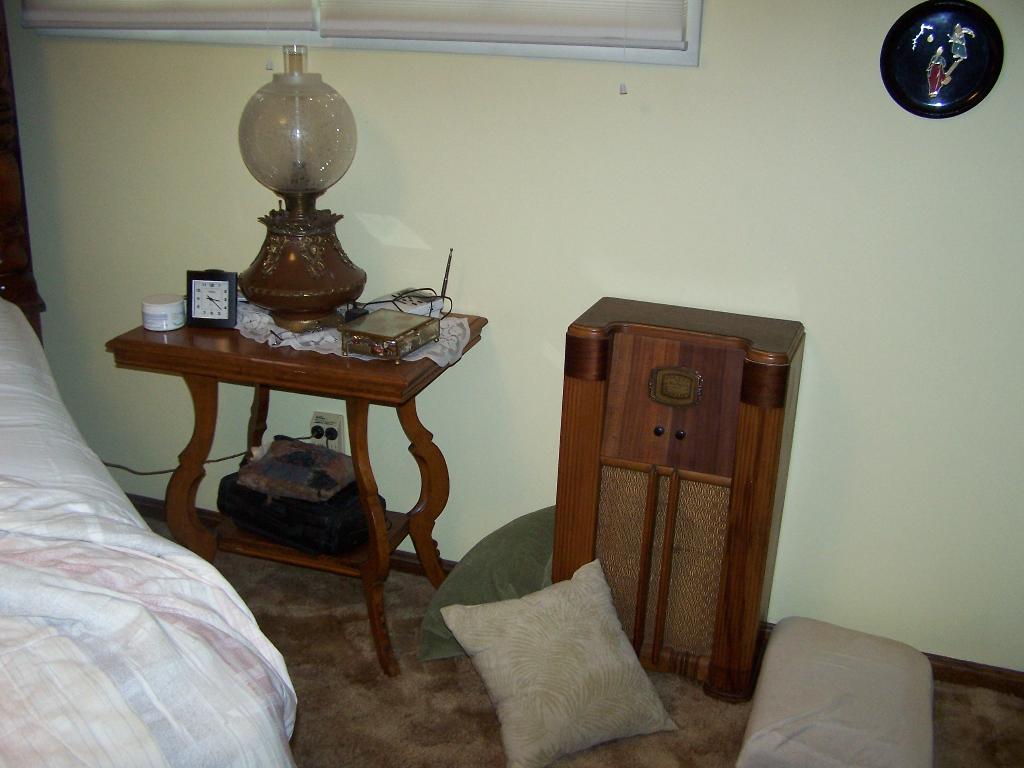 In the foyer Freshman Grand Mother Clock Radio Also one of Jean's Emerson radios this one has a cardboard cabinet not many of them have survived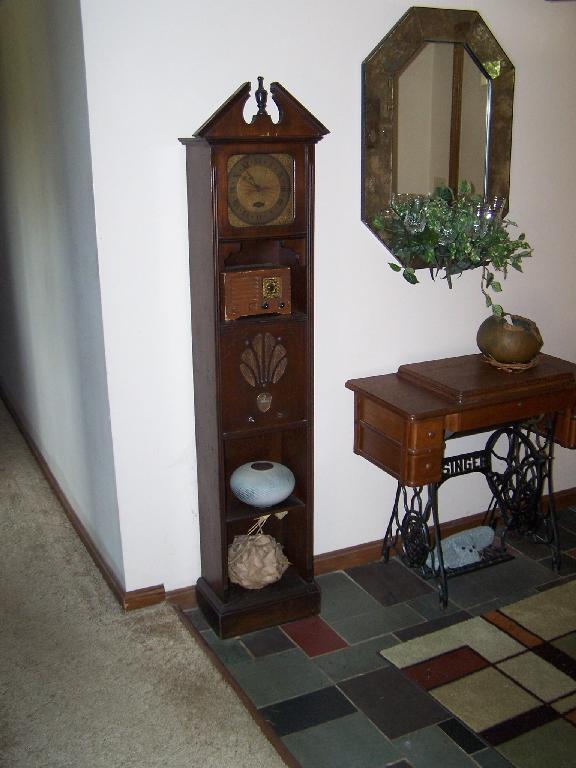 And on into the living room.
On Top a

Philco model 21 $795

cathedral, One of Jean's rare Emerson mini tombstone, Inside the case an Addison and a Dewald Catalin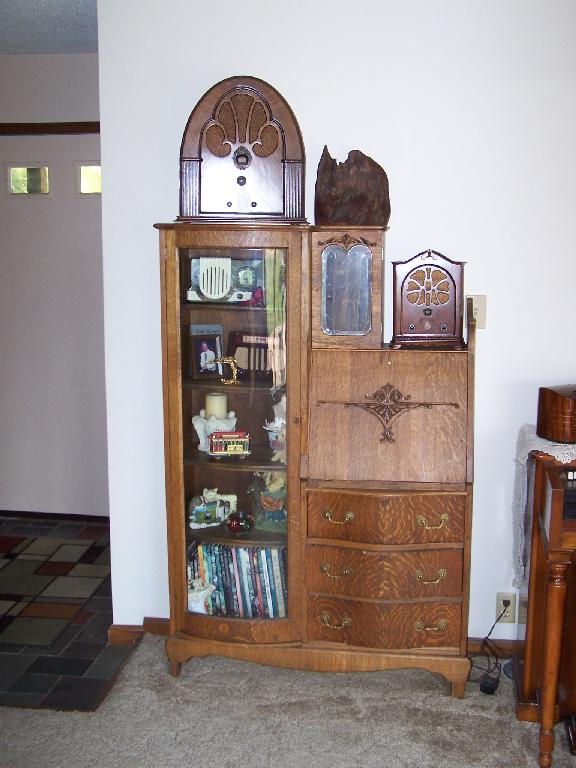 5 of Jean's Ingraham Emerson radios. To see all of them click up our Emerson Page
Jean's Emerson Page
Notice carefully the two on the left. Identical cabinets except the left one is a bit larger. The left side one is a VERY rare model CV296 Emerson Strad square dial YEAR TWO
for this cabinet design. The smaller one is the more common Emerson Strad model CL-256 D shaped dial. Later you will see the one called the "Big Strad"
So the question why would Emerson use a nearly identical but all dimensions are slightly larger on this model CV296 ? The answer is...
The small Stradivarius shaped cabinet sold very well. The following year is when the "New Invention" of the built in loop antenna came into being. The smaller
cabinet had zero room for the internal loop antenna so Emerson had the same thing built but slightly larger to accomodate the latest and greatest radio.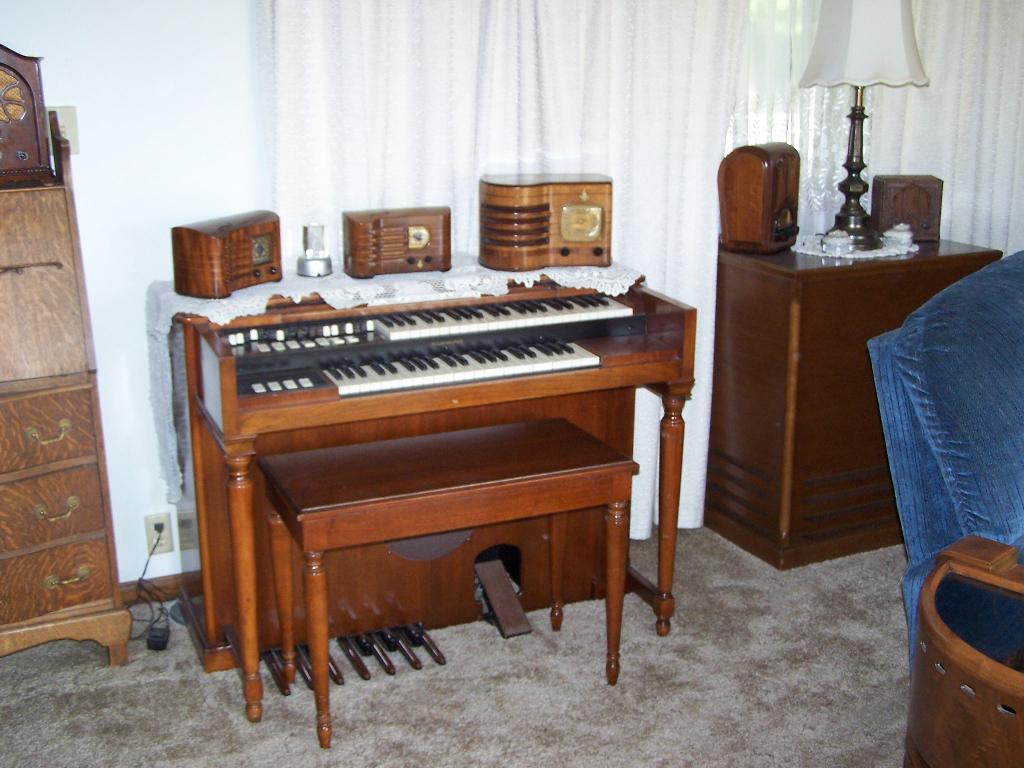 Ah Yes the Stromberg Carlson 1/2 round chairside model 231-R Very soon the rarer "Coffee Table" version 231-F will be in front of the couch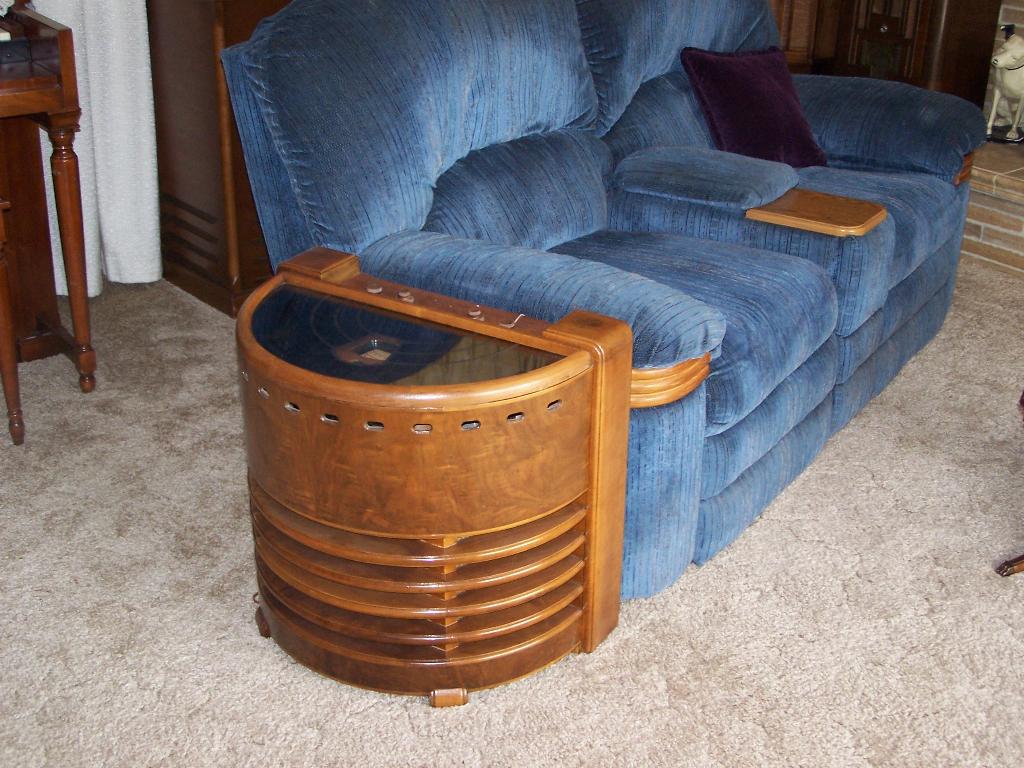 on top is a mini Cathedral radio labeled Wayne Hardware Co Ft Wayne Indiana yes it is smiling at you.
Stromberg Carlson Corner Console sorry not for sale. Corner designed cabinets are very rare.
And next to it an RCA model 9T Tombstone radio. This is one of the absolute best performing 9 tube radios to
be found. And everyone into old radios has to have someplace a Dog... yes Nipper the RCA Dog. And to the right of Nipper one of Jean's Emerson Radios.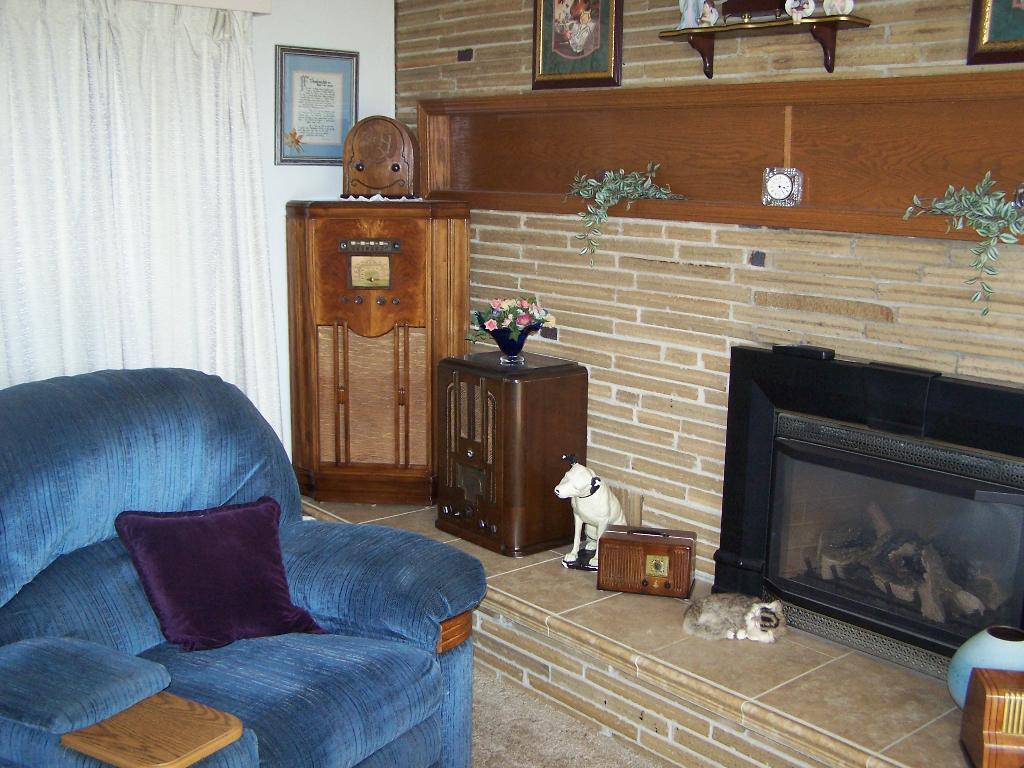 And two more of Jean's Emerson radios. The one on the left is a VERY rare model. Yes it is found frequently in Bakelite with the same shape but Seldom found in
the wooden cabinet. Model 615 from 1949
Jean's Ingraham Emerson Page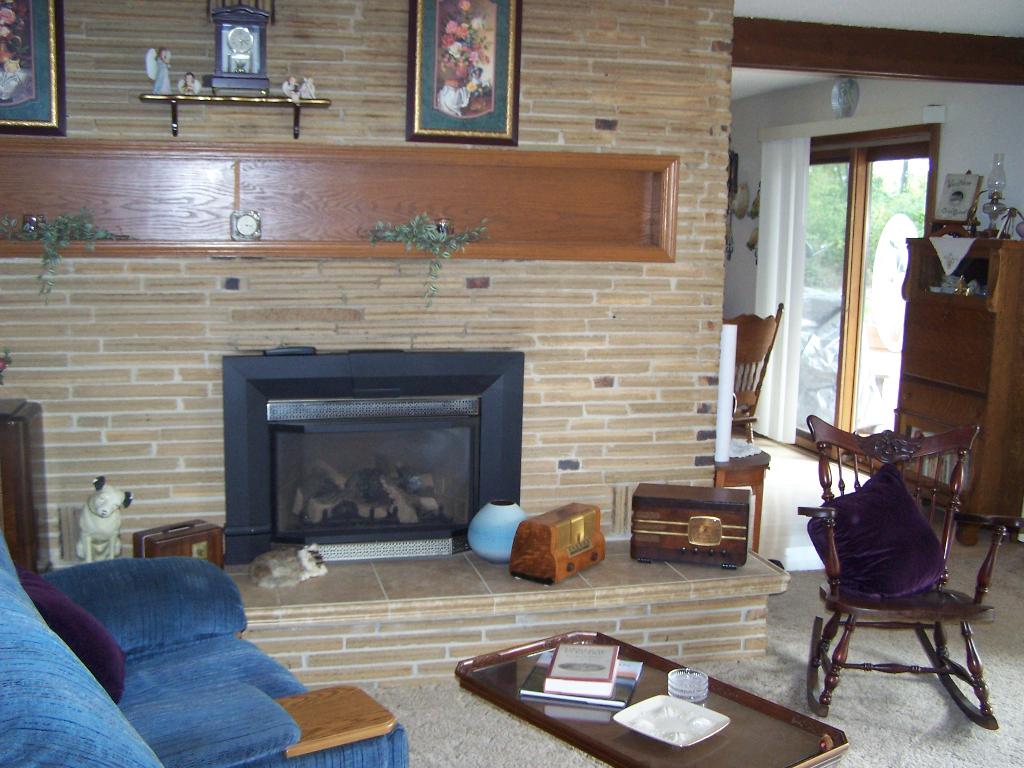 Across the top
RCA 1939 Worlds Fair radio, Emerson "Mae West" yes for obvious reasons, Zenith Glass Rod their 1939 Worlds Fair Entry, Emerson
then a bunch of Jeans Ingraham Emerson sets.See all of them with model numbers on Jean's Emerson Page
Jean's Ingraham Emerson webpage

Console left side Zenith 9s55 $1995, On top of it a Philco 90 sorry it is SOLD

Chairside radio next to the rocking chair is a Zenith model 9S242 Robot Shutter Dial Zephyr style cabinet $1495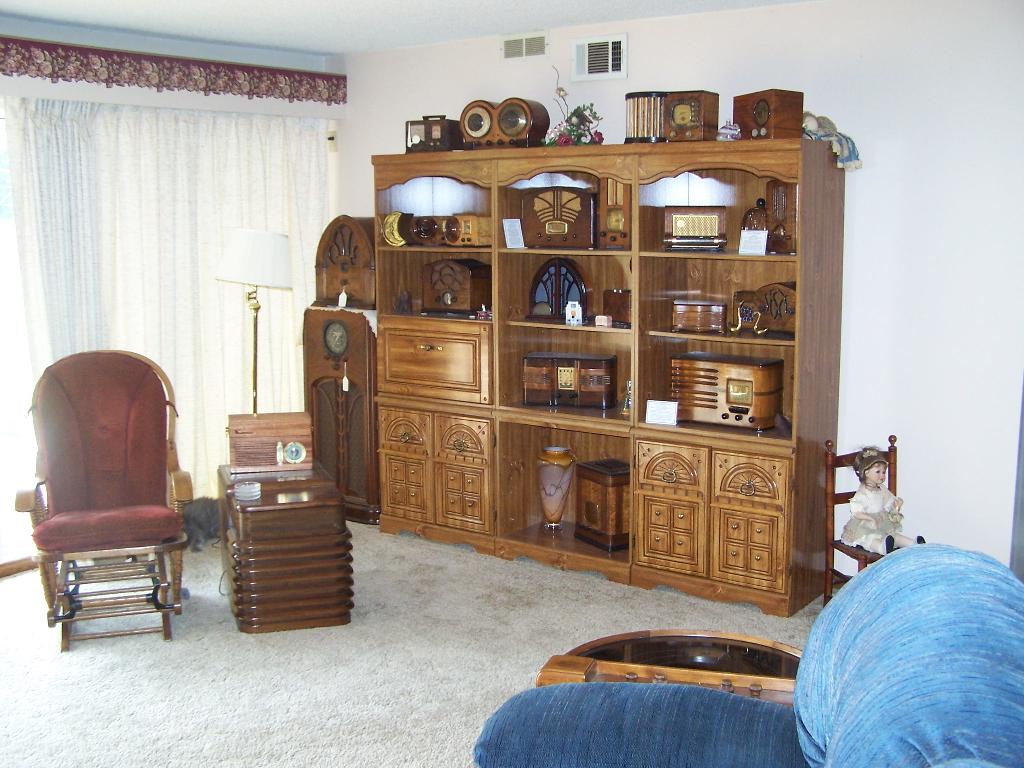 Next Kitchen Radios? Yes we have radios in the Kitchen !!
Zenith model 5J217 a really nice little "Cube" radio.
Fitting for the waiting room chairs.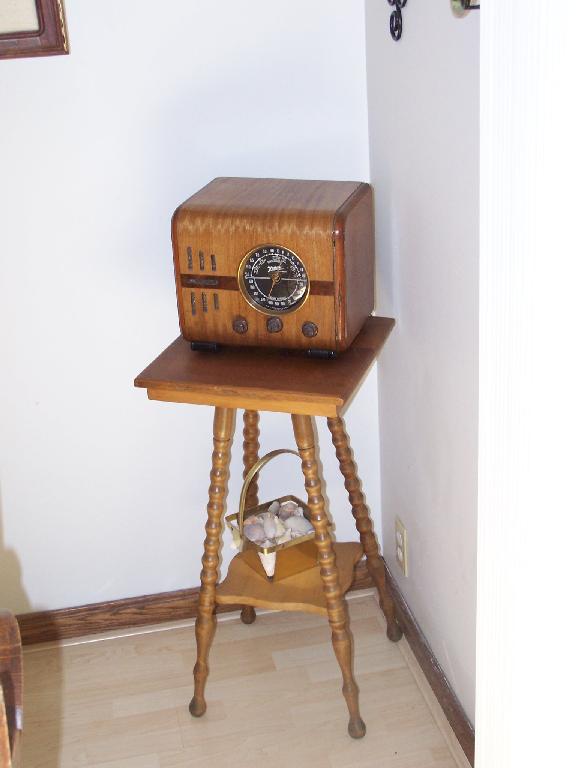 Guild "Spice Rack" Radio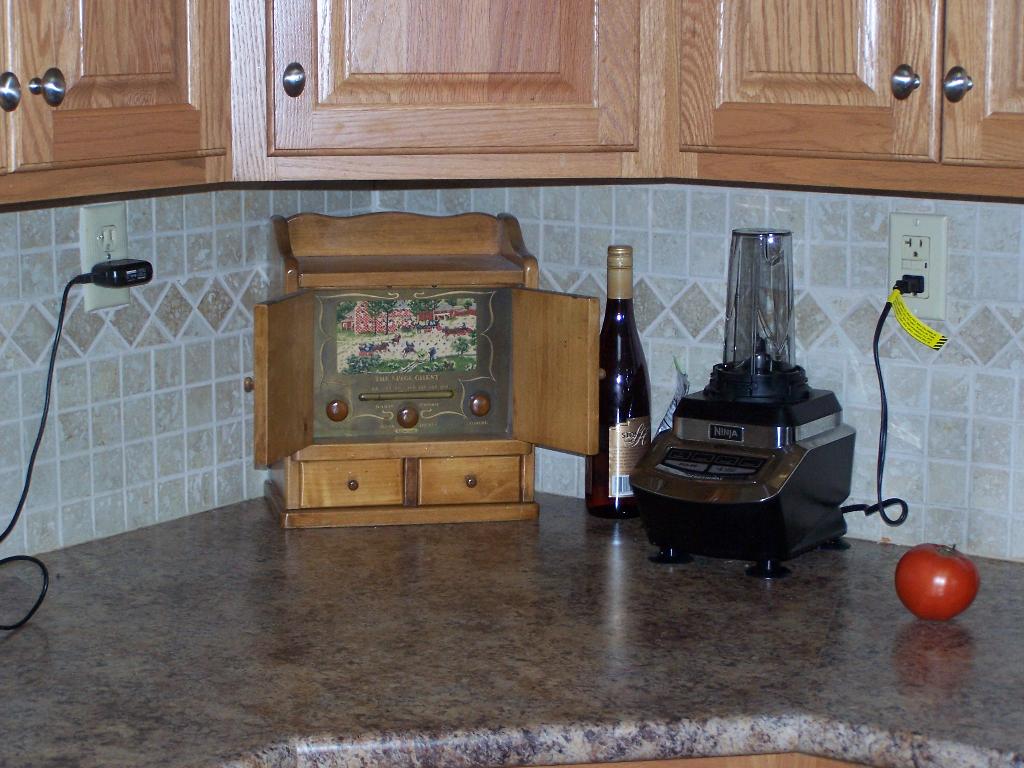 Guild Tea Pot radio and next to it a Cathedral Shaped Cookie Jar. No it isn't a radio.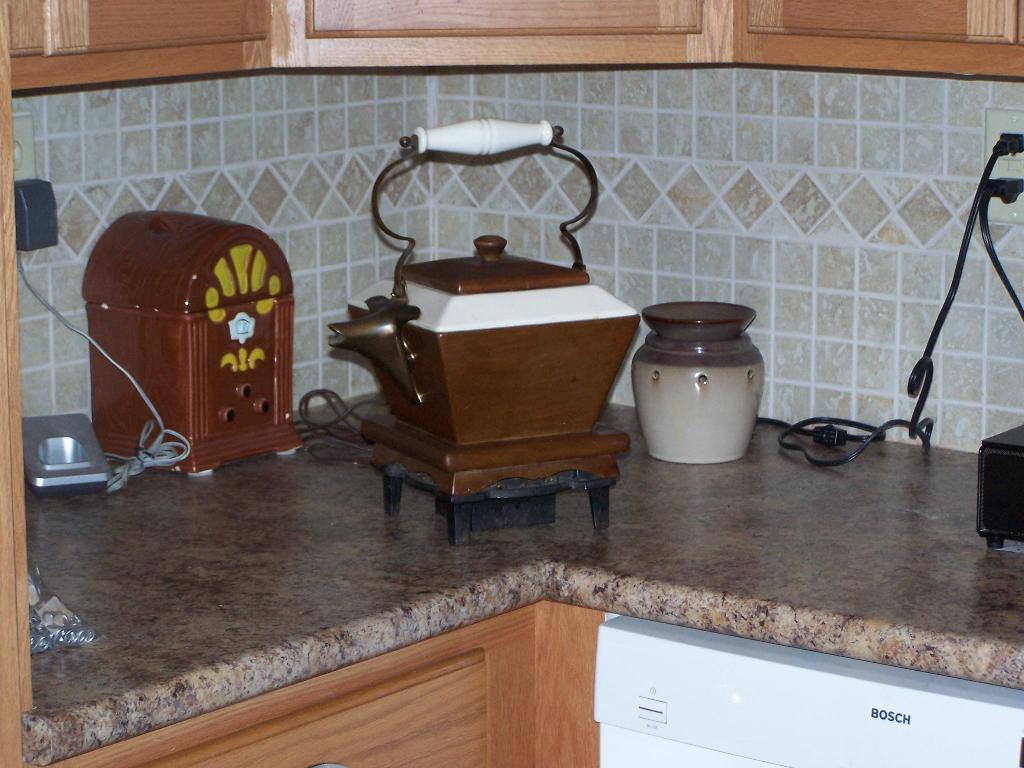 Family Room Radios
The Glass Case
All Emerson radios other than the Majestic Rudolph the Reindeer and the Bendix Catalin
Two nice Emerson radios on top of the

Zenith 9s369 console $1495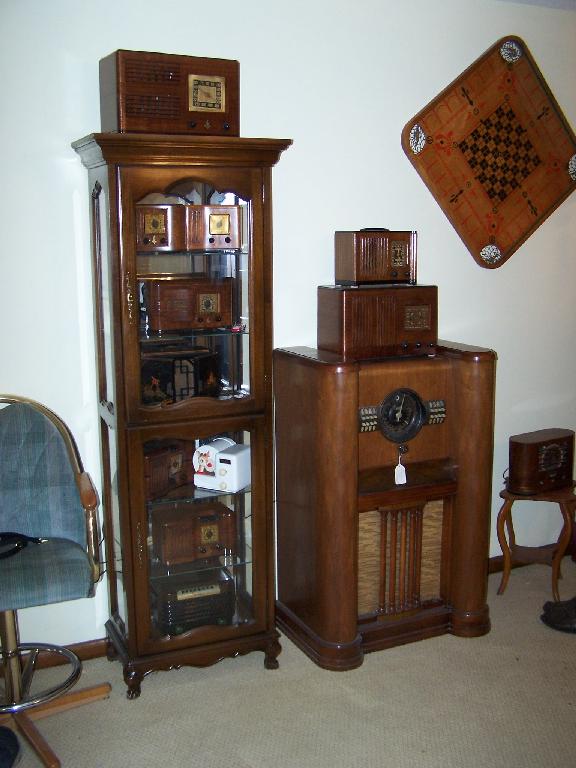 Another small oval shaped Ingraham Emerson plus on top of the Humanola Crank Phonograph is a Transistor Globe radio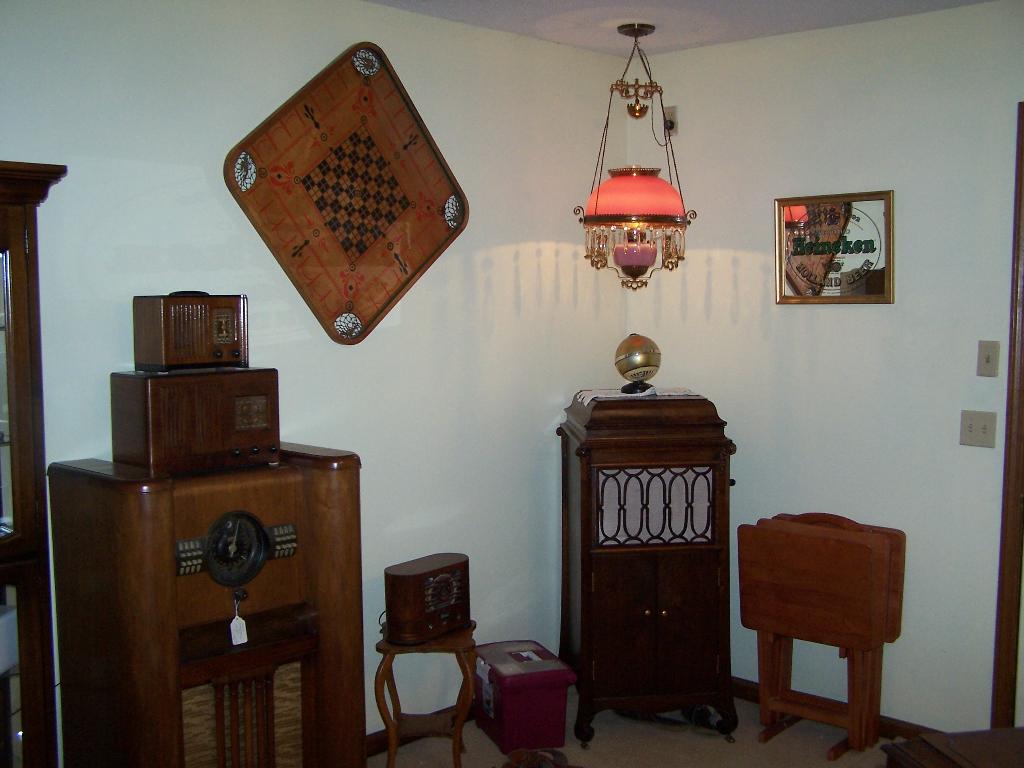 Two more of Jean's Ingraham Emerson Radio Page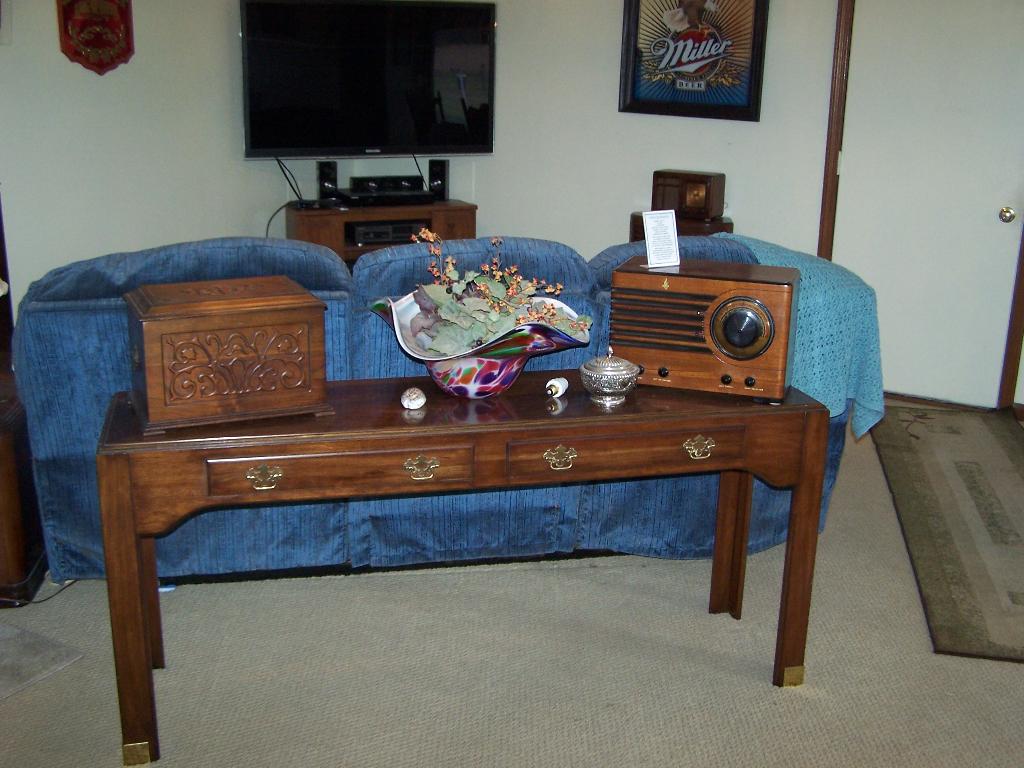 Zenith 12s232 Walton, Zenith 12A57 console,

Zenith chairside 9s244 $1595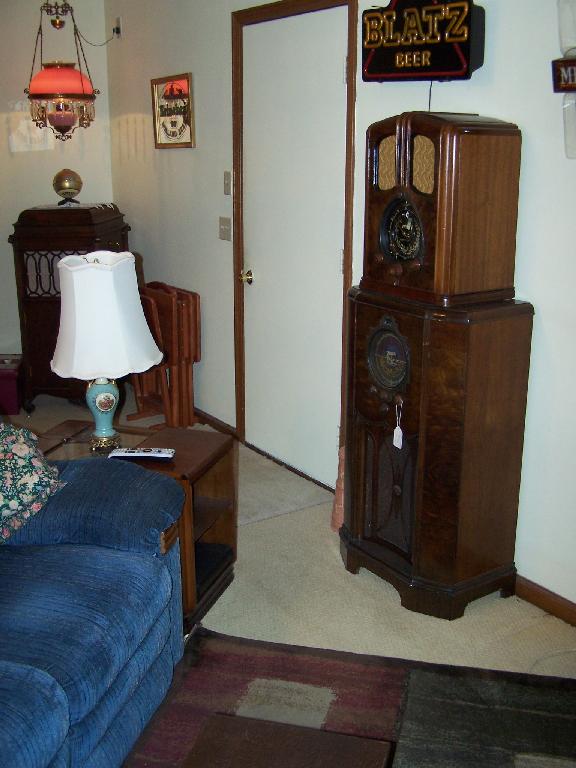 two of Jean's Ingraham Emerson radios. The small childs console is a very rare radio.
Link to Jean's Emerson Page showing all of her Emersons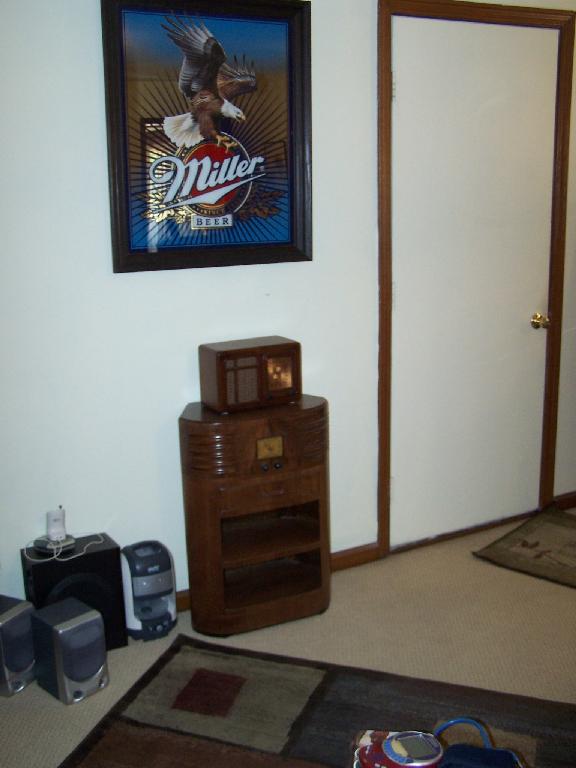 two pictures
My Americana III Wurlitzer Jukebox. Super playing machine that holds 100 records 45's that is.
Oldies and Early Country Selections
Inside the glass case all Ingraham Emerson radios other than yes a Fada Maroon catalin Bullet
Then a couple that are for sale.

Fairbanks Morse very large tombstone $795, Zenith console 9S262 $1495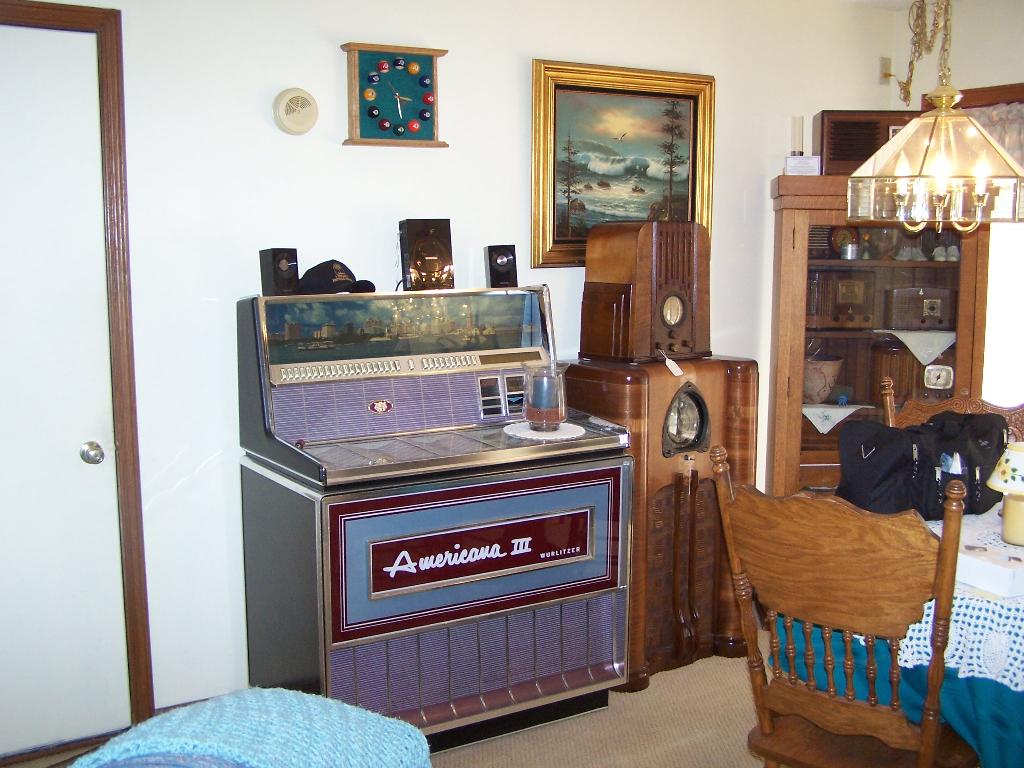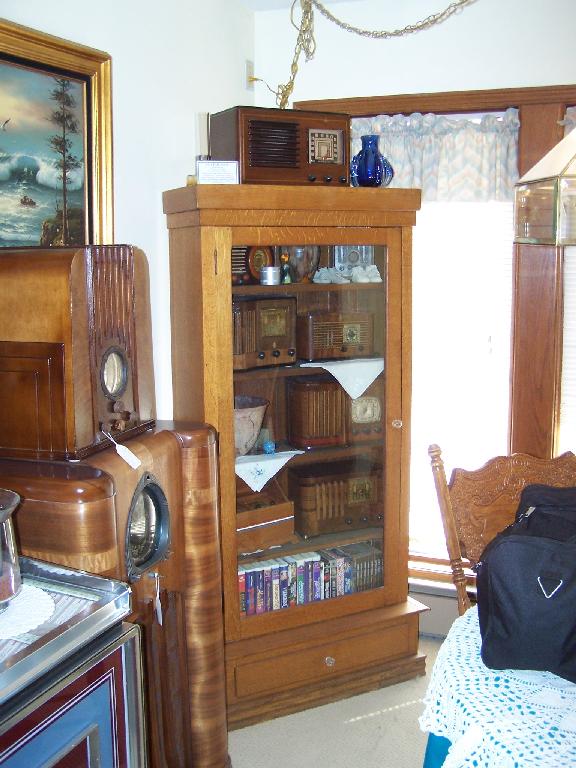 nice Oval shaped tombstone radio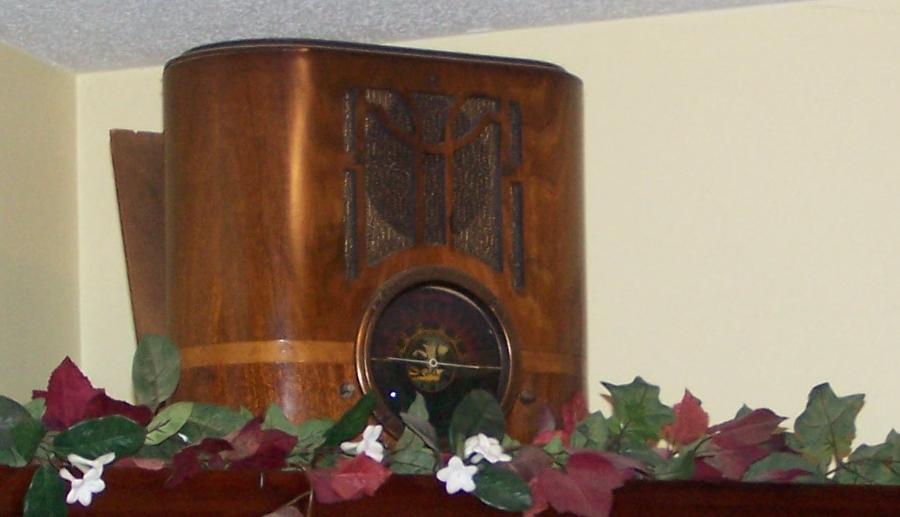 And ffinally into the Garage for a few views of the Parts Stash, Tubes, Chassis, Parts and more Parts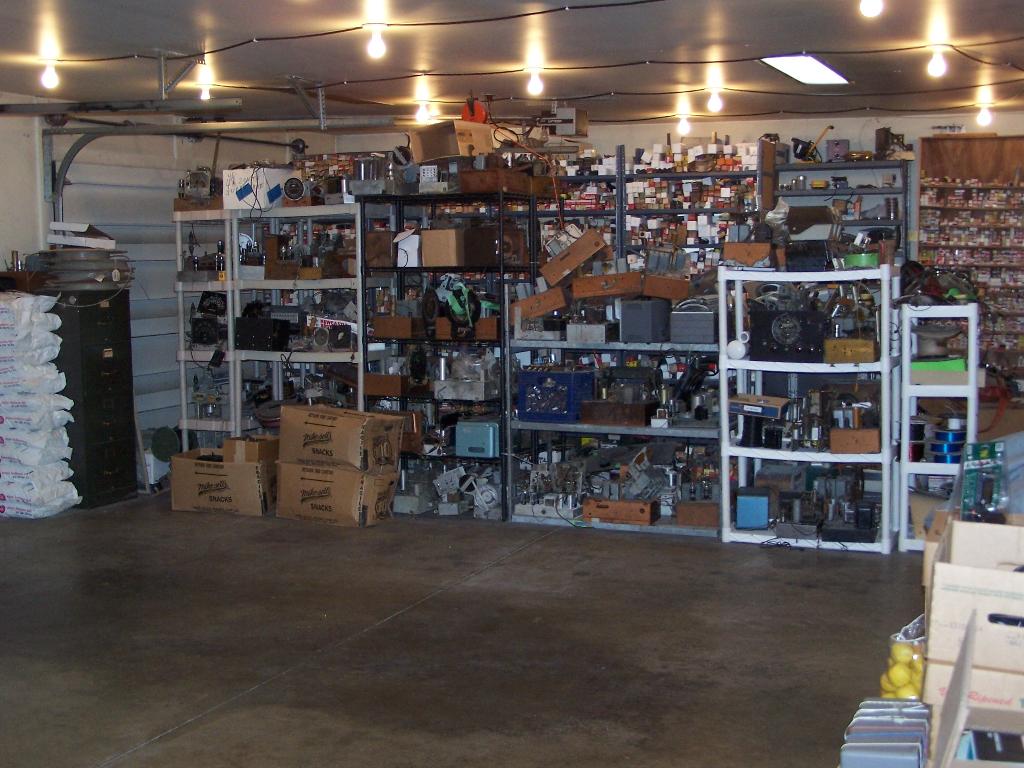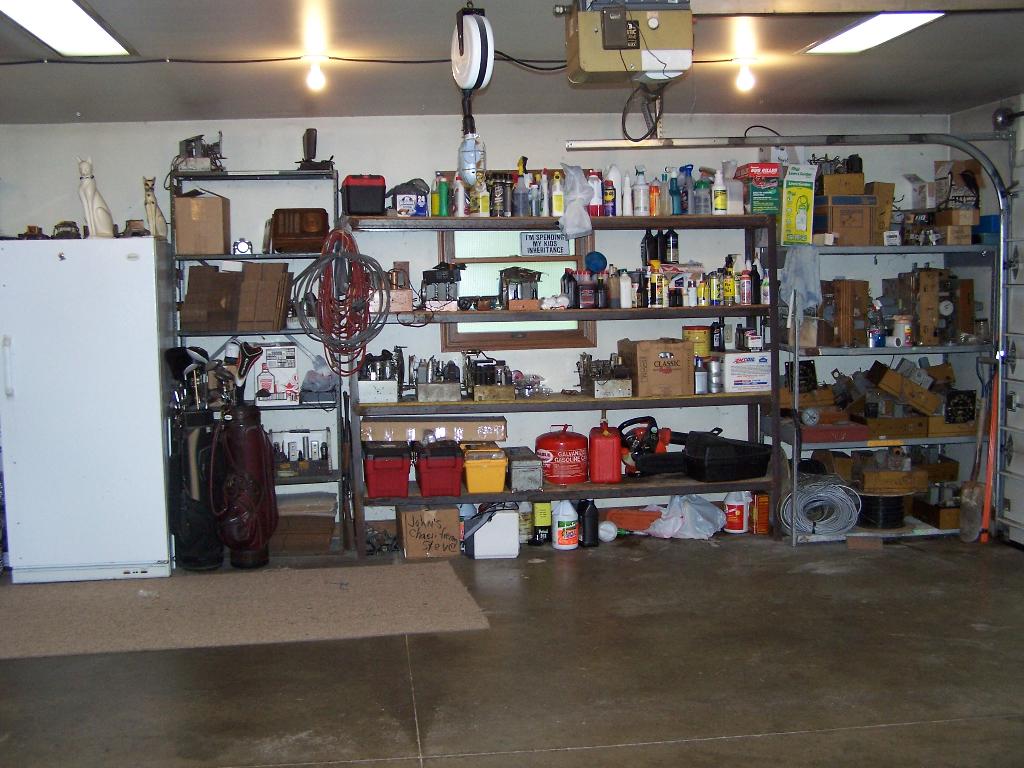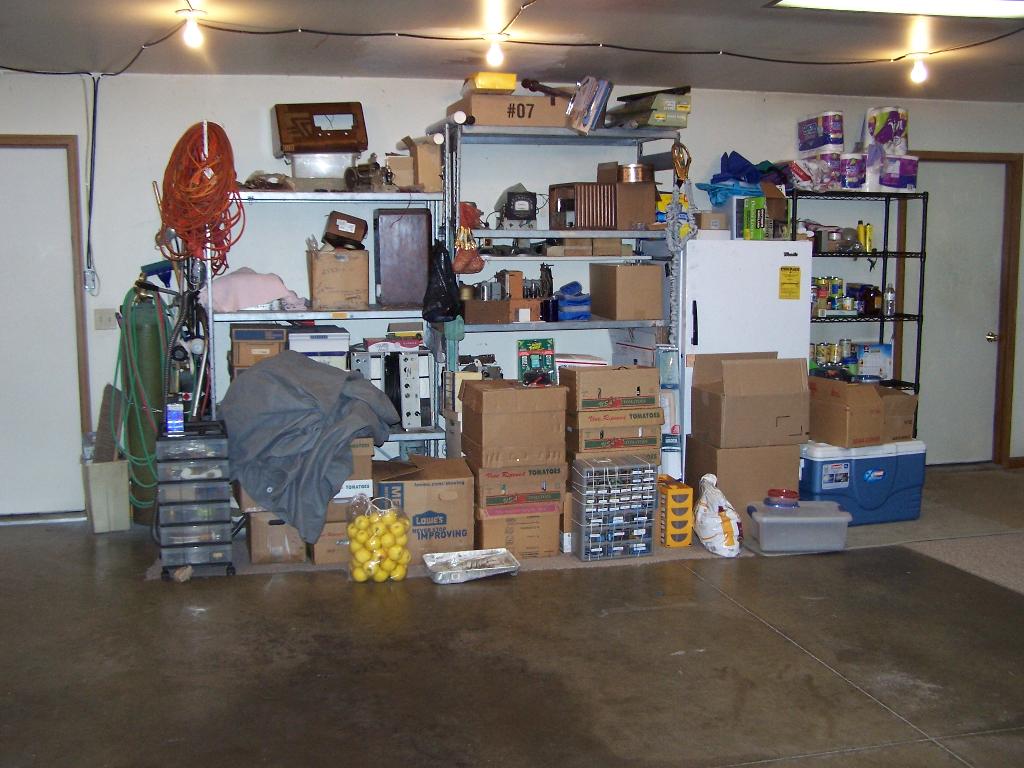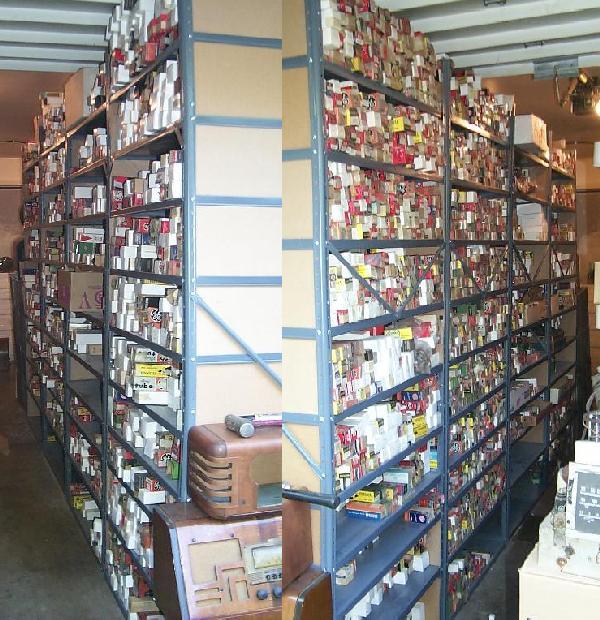 Two late entries into Jean's Emerson Collection. They arrived the day I took the above pictures.
Thanks Bob Dobush !!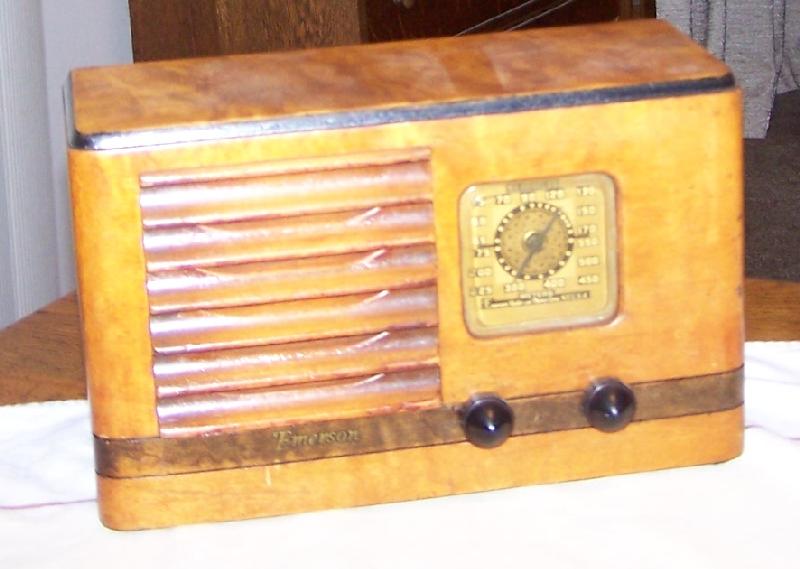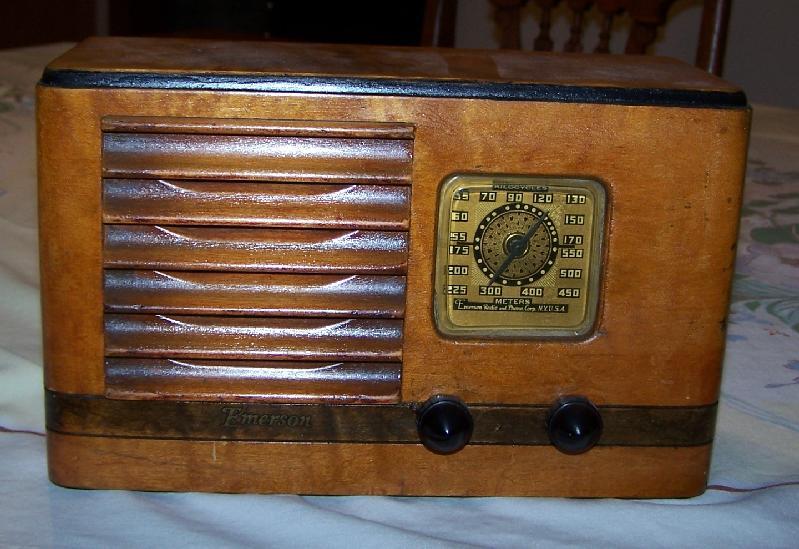 And onto the house in Florida Yes we do have radios in the southland.



first is an Ingraham Emerson Chairside. Chairside radios are rarer as a group than floor consoles or table radios.
Emerson Chairsides are even rarer than most other companies chairside designs.
And yes that is Baby Strat the Cat.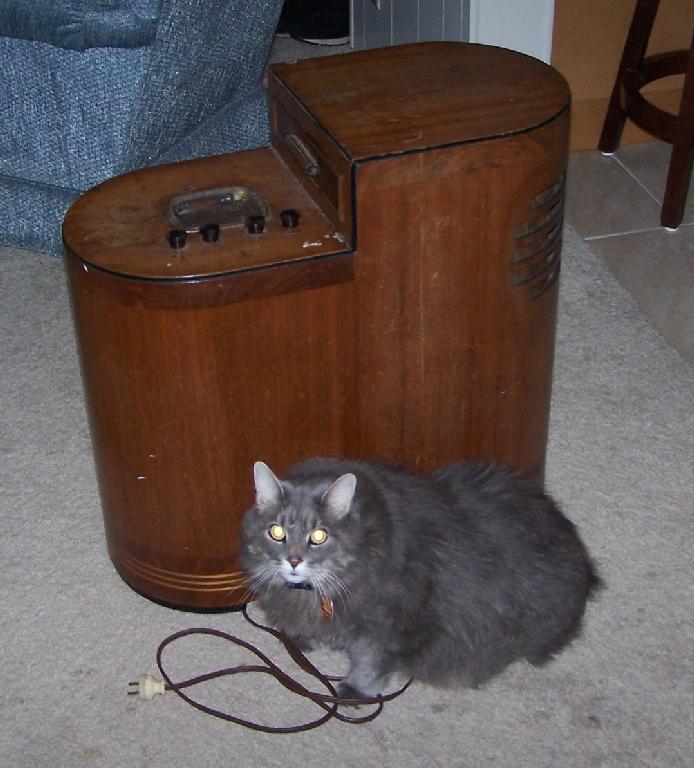 Jean's Emerson Radios they seem to keep mulitplying.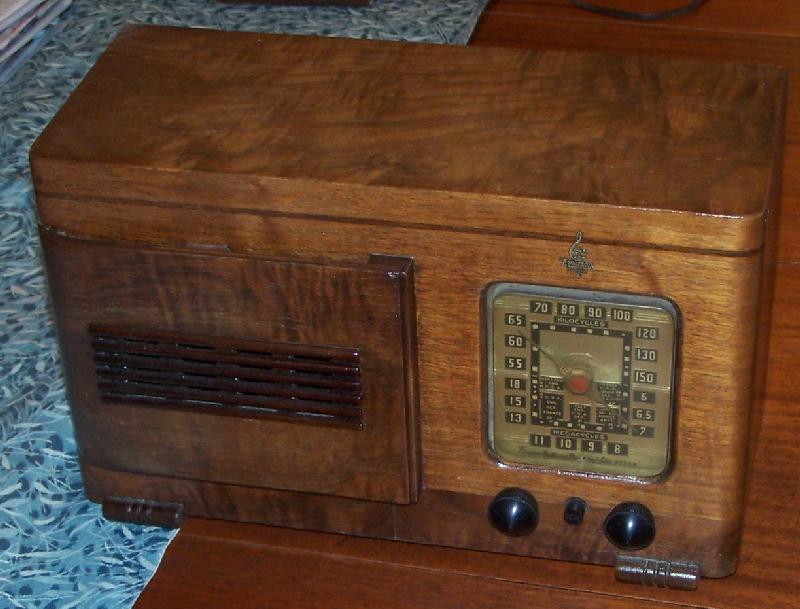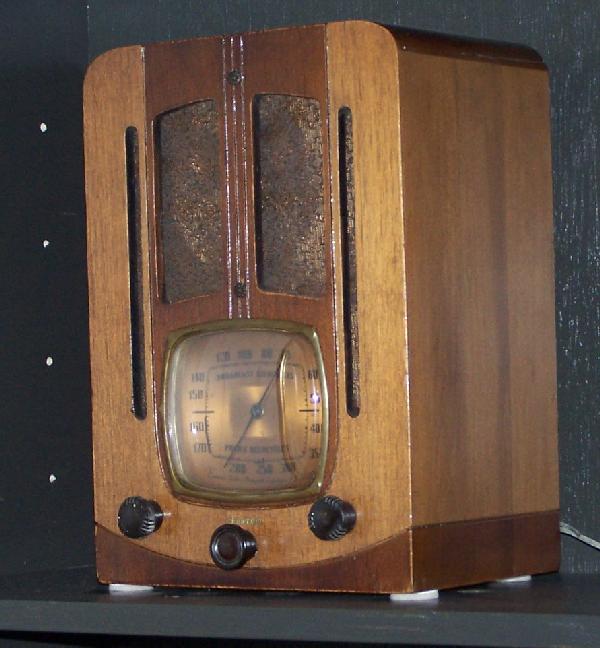 Emerson Set of Books History of Nations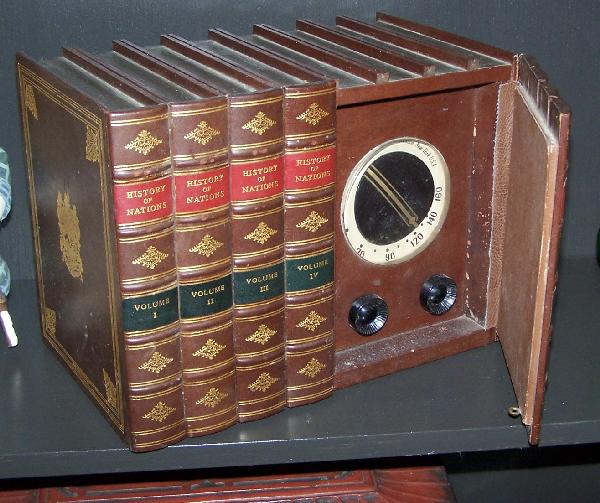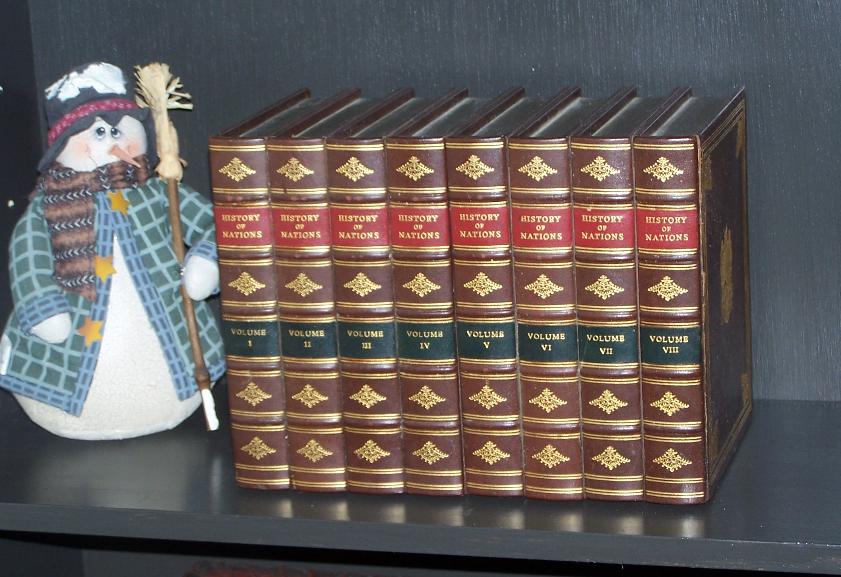 Emerson Pagota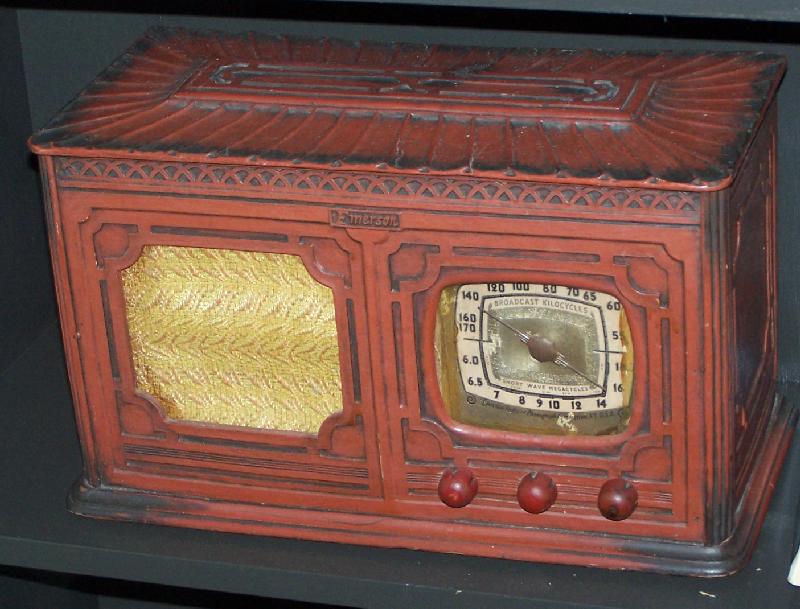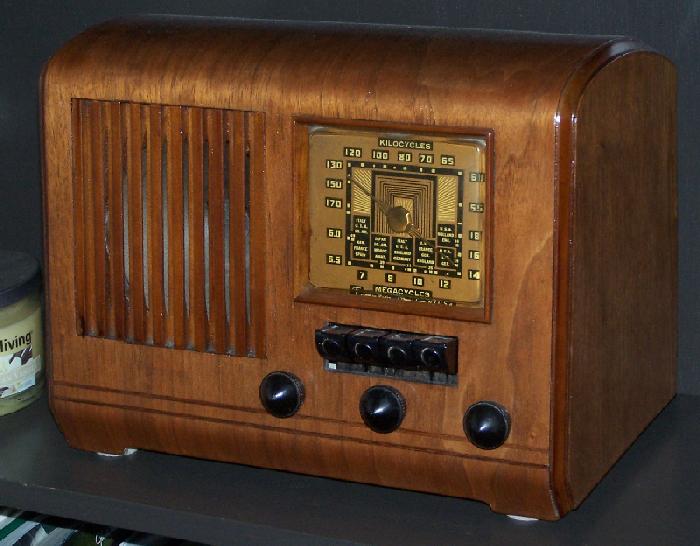 Ingraham Emerson Pen Set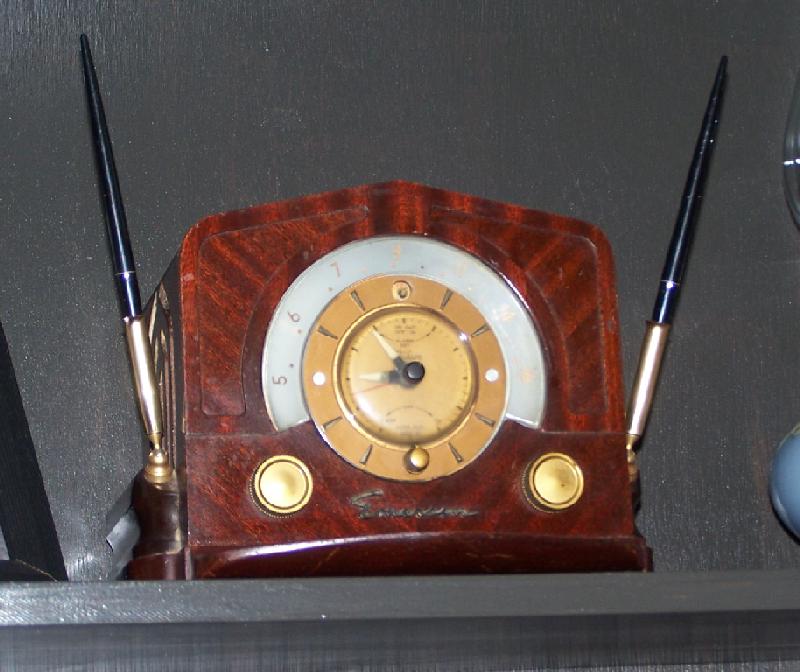 Yes those are sliging tambour doors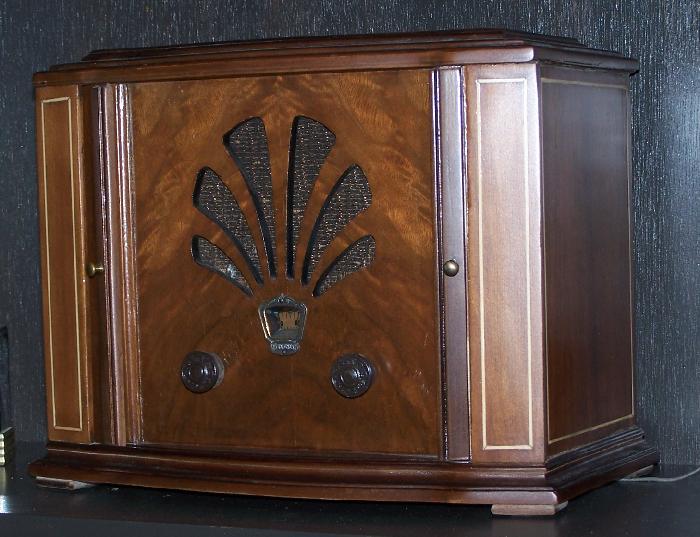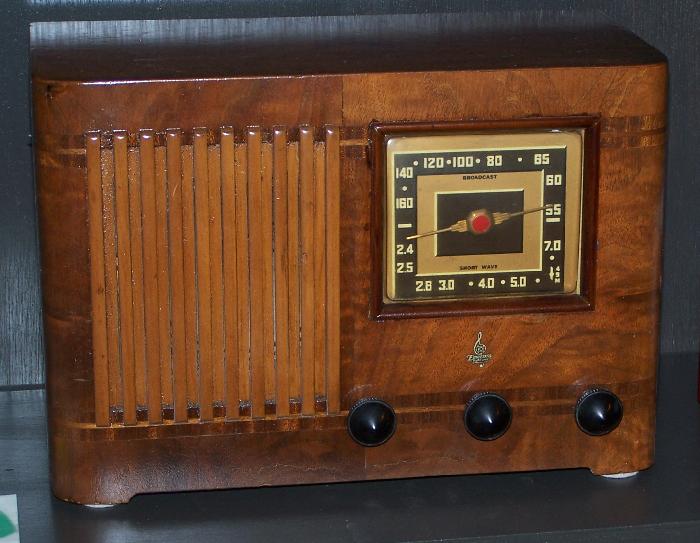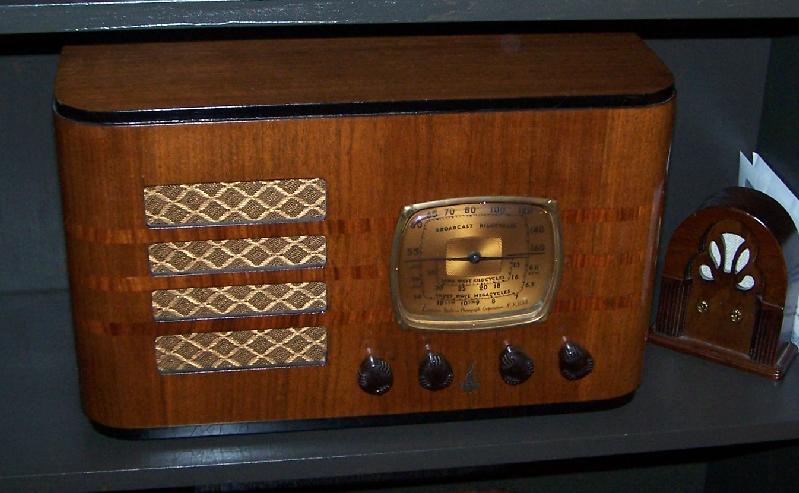 Very rare Emerson Tombstone model and next to it a TWO tube Pyramid radio. Yes it really does work with two tubes.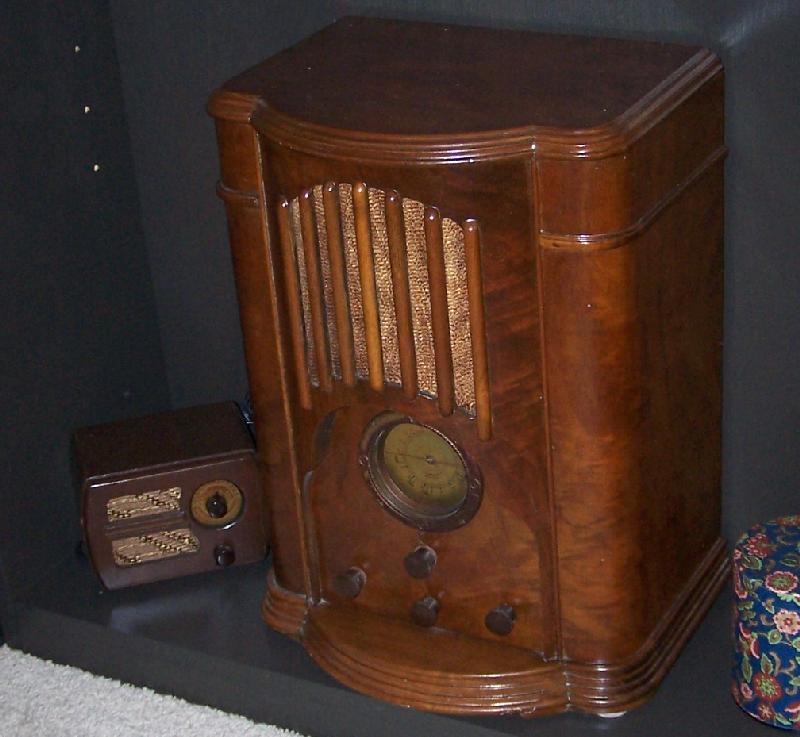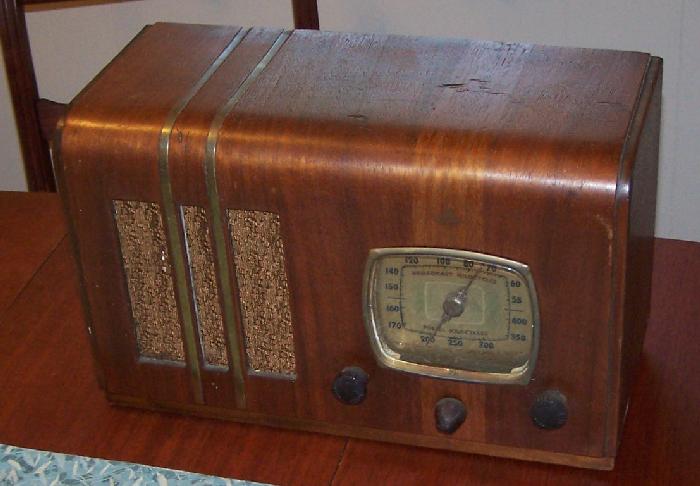 Yes this cabinet is made from Cardboard. Not many of these survived.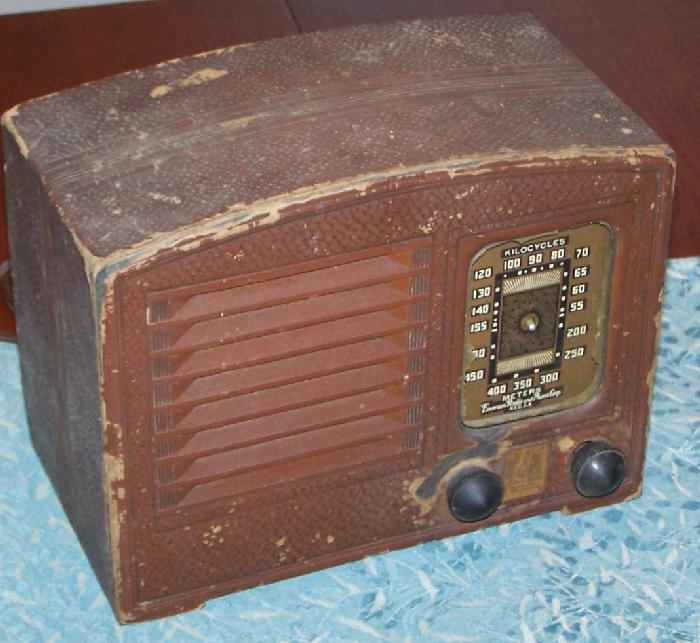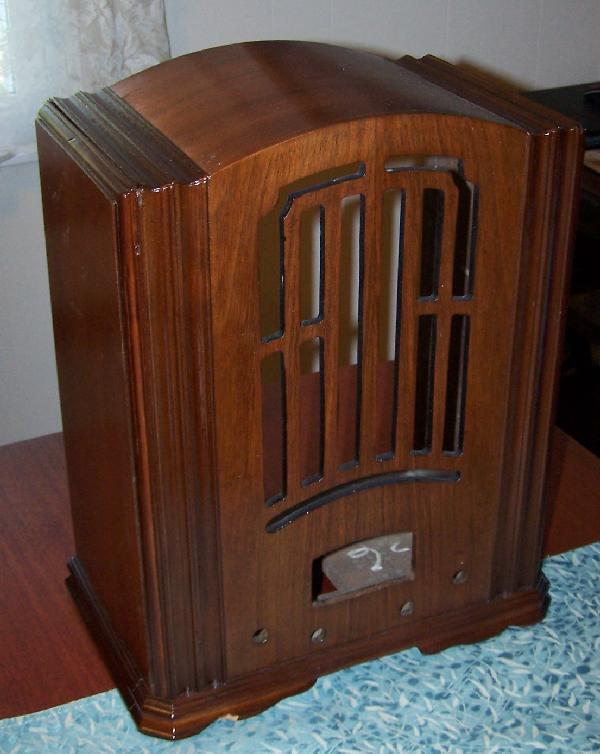 Yes Emerson did make a couple cathedral radios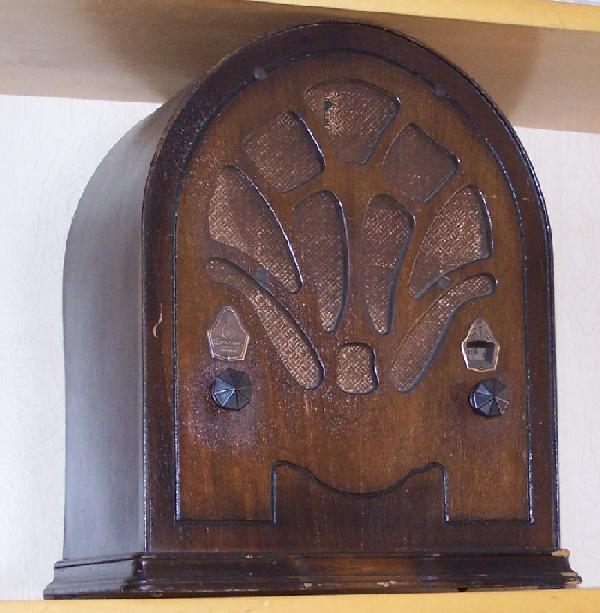 Emerson model 30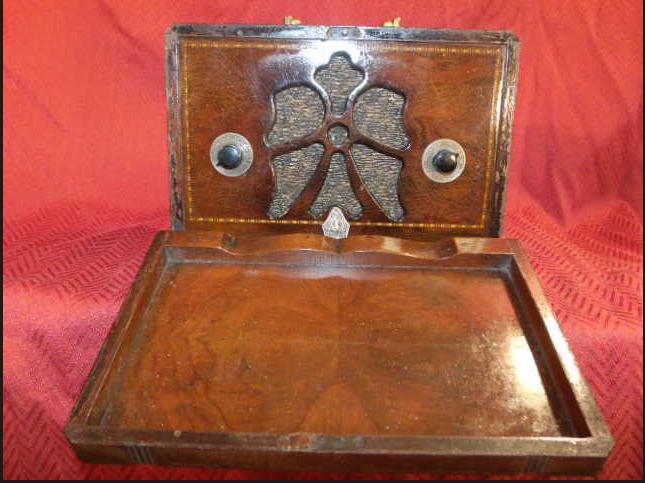 And yes we do have a couple transistor models. Nice Globe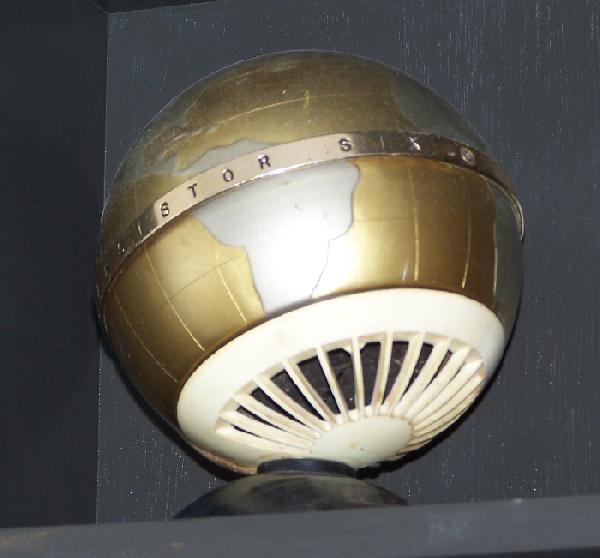 and yes one Pilot FM tuner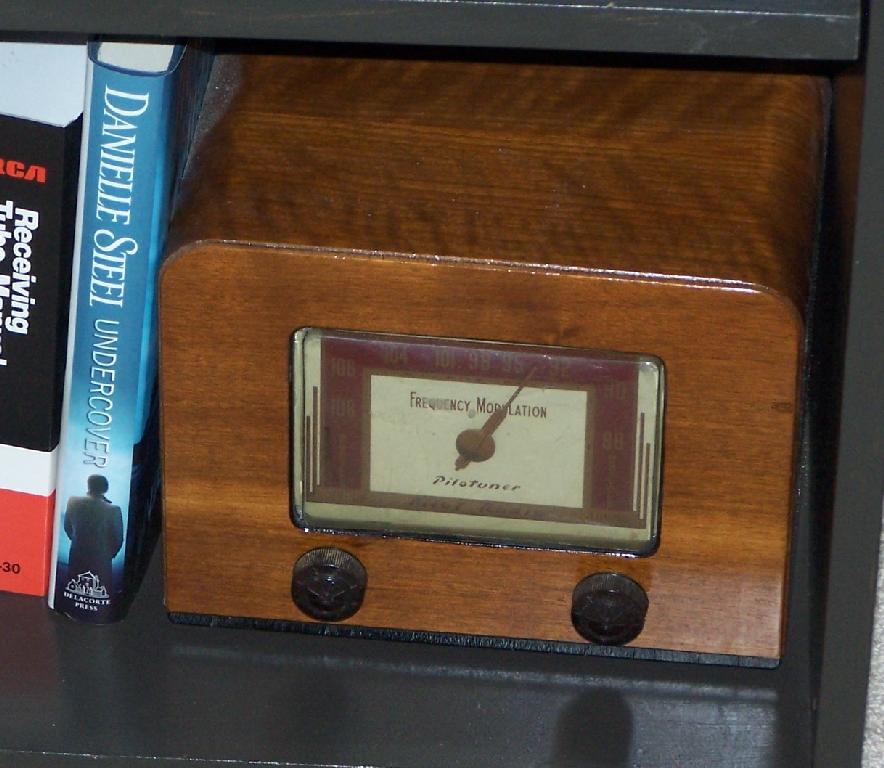 I am not really a bakelite collector but this one I do really like the design as well as yes it has an eye tube.
Airline Little Miracle model 62-288 in Black Bakelite.
Cabinet work by Rick Braun Thanks Rick it is perfect !!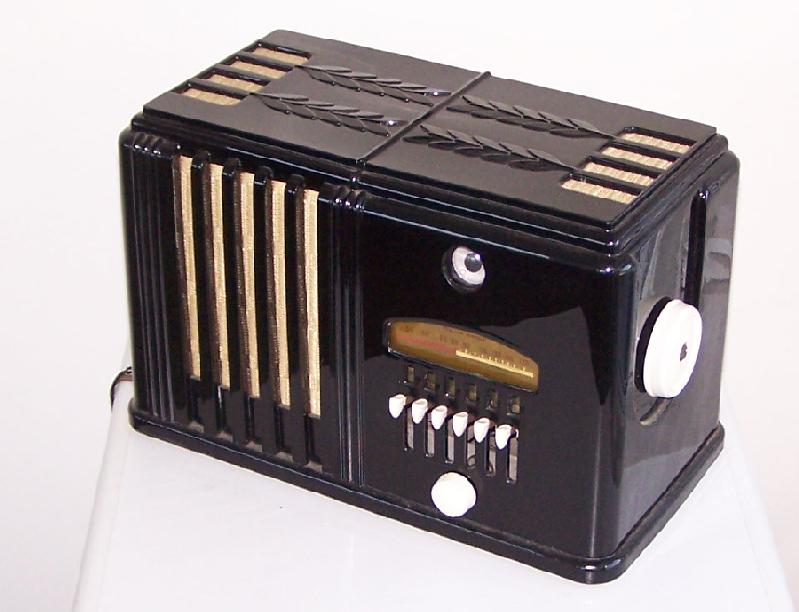 and last but not least my Zenith 15U269 console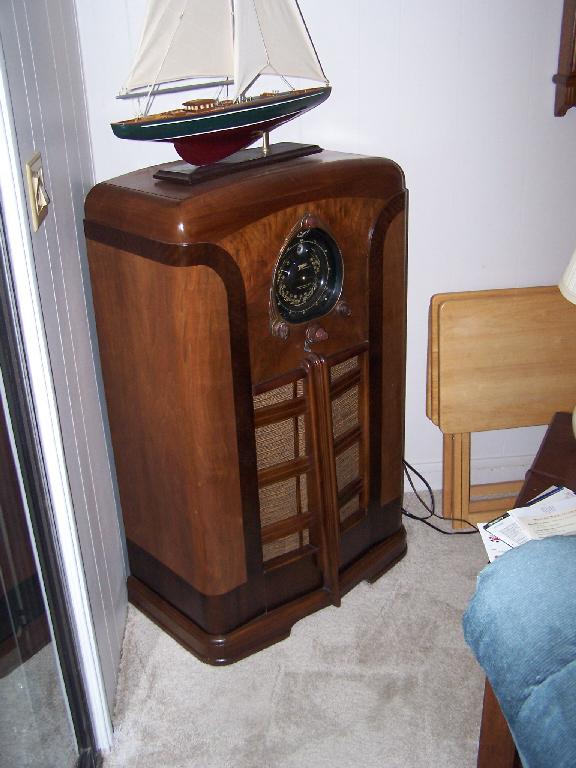 Email us if you have questions John <k9uwa@arrl.net>