John & Jean Antique Radio Collectors


zenith philco rca crosley emerson walton truetone radiola heathkit collins eico hallicrafters johnson delco qst ge magnavox american bosch
We do Complete Antique Radio Restorations cabinets and electronics
atwater kent apex wings st. regis fairbanks morse nathaniel baldwin montgomery wards simplex silvertone seeburg firestone coronado addison
hammarlund kroehlerRestoration of radios is a great hobby!!majestic meck detrola
guild kennedyOur services are warrantied for one year!!motorola parmak
freed eisman grunowSome examples of our work and our collection packard bell pilot
We Buy Sell and Trade ....so take a look at the Web Site!..

Radios for Sale


Consoles, Table Radios, Bakelite, Cathedral, Tombstone
Click here to see All Radios For Sale
UpDated August 25 2017

Zenith 9s262 console $1095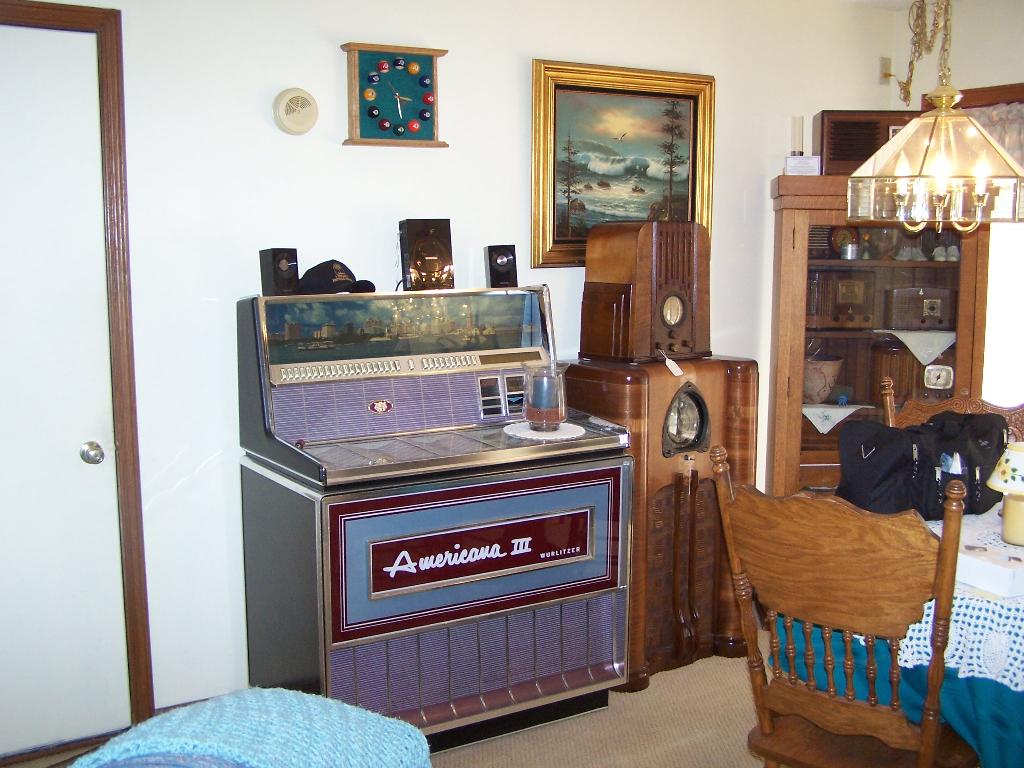 ________________________________________________________________________________________________________________________________
OK lets take the Virtual Tour of John and Jean's Radio Museum Click below for several HUNDRED Old Radios

Some others for sale Please take the Virtual Tour through the
John Jean Antique Radio Museum


---------------------------------------------------------------------------------------------------------

Jean's Ingraham Emerson Radio Collection
Now numbering around 100 different Ingraham Emerson radios




Click the Stratospheres for more pictures and for their stories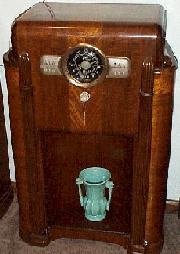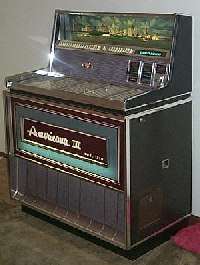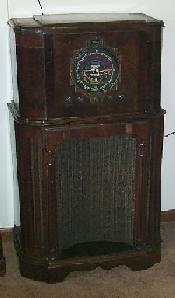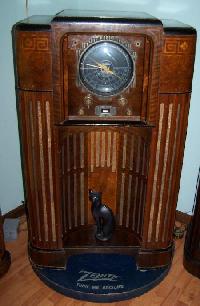 Zenith 10s 470 "Poor Man's Strat"___Wurlitzer 1965 Americana III____ Zenith 16A61 Stratosphere____Zenith 1000Z Stratosphere
We finally got lucky .... yes thats a Zenith 16-A-61 Junior Stratosphere....And a Zenith 1000Z Stratosphere and NO they are NOT for sale....
don't even bother to ask! ... Click on the pictures of the Stratospheres for additional pictures

---
OK its time for another of our now Famous "Group Pictures". This time the radios choosen are much rarer than plain old Walton Radios.
These radios are what Zenith called "Boat and Trailer Radios" They were sold in 1937. They were 6 volt powered by an Auto type
battery. So take a look at the radio and its matching speaker. Then think about... Just what sort of "Boat" or "Trailer" one would
need to have such a radio on board? .... Ah... Yacht... is more like it... Or a Rather Large type "Camping Trailer" perhaps? Well in 1937
There were I imagine not too many of those floating about? ... Total production of this Zenith model 6B107 radio and matching speaker
was 1000 Units as per the Bryant and Cones book. Where the Walton radios production was in the 35,000 or so range. The revered
Zenith Stratosphere 1000Z had a production total of 350 units. So this lowly "Boat and Trailer" radio only had three times that number
produced. Today folks you see before your eyes.. FOUR... yes FOUR of those radios complete with their speakers.
Guaranteed the last time that FOUR of these radios were together in one place WAS in 1937 ON the assembly line at Zenith.
So I only ask One Question... if you happen to Have or Have Seen one of these radios elsewhere... please send us an email... At a guess I think
there are probably less than 50 of these out of the total 1000 production that still survive in collections throughout the world. At this time
I only know of SIX others.. other than these FOUR radios....
The Last time FOUR or more of these radios were together was in 1937 when Zenith was shipping them from the FACTORY

Presenting Zenith 6B107 Boat and Trailer Radios restored by John and Jean Antique Radio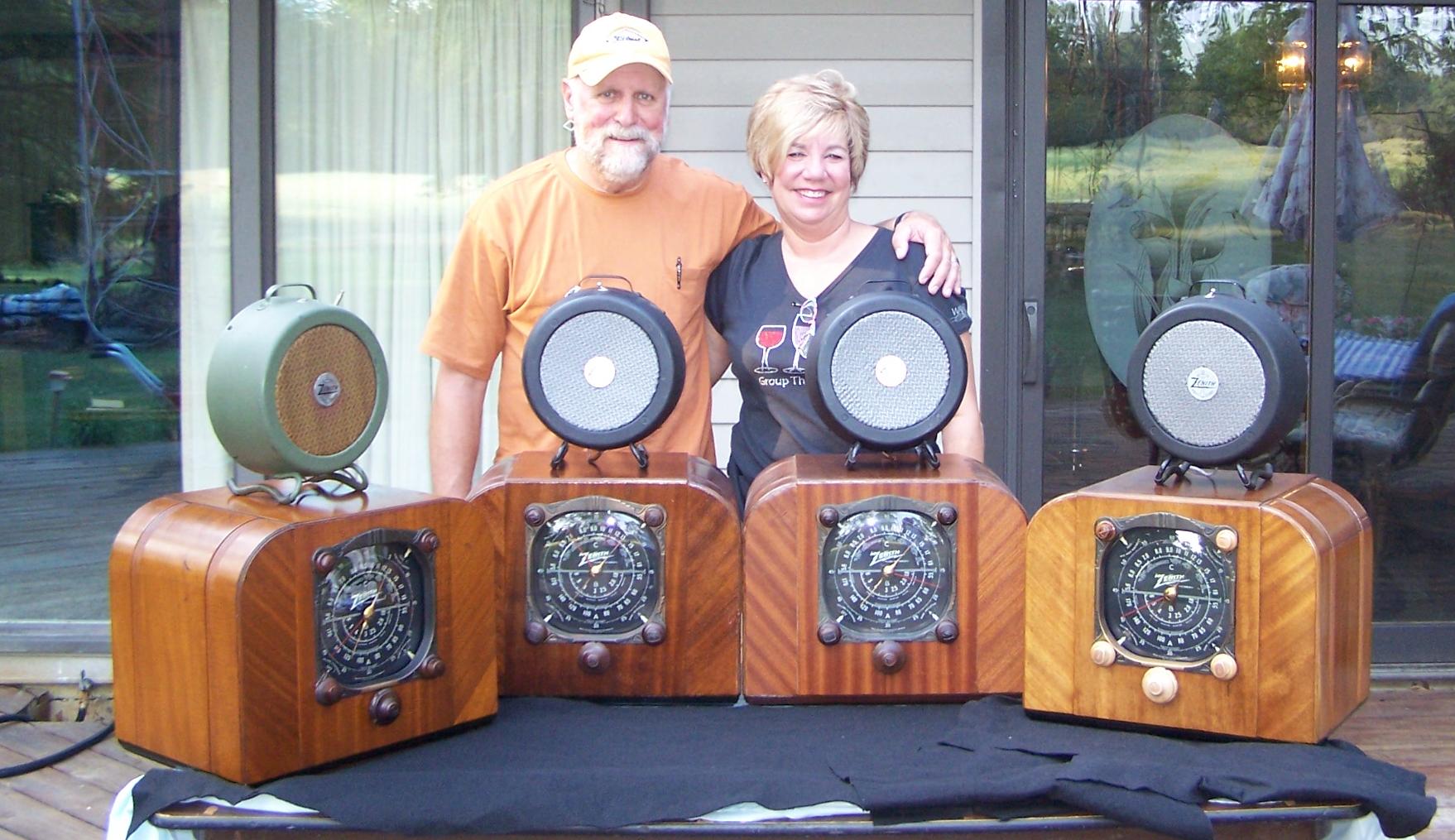 The radio on the right I am keeping for my own collection. The unusual light maple Z-knobs are found on the
Ivory Zenith radios. I am missing one so if you have one in your knob box please an email.

---
Our Baby Stratosphere just had a "Litter of Walton's"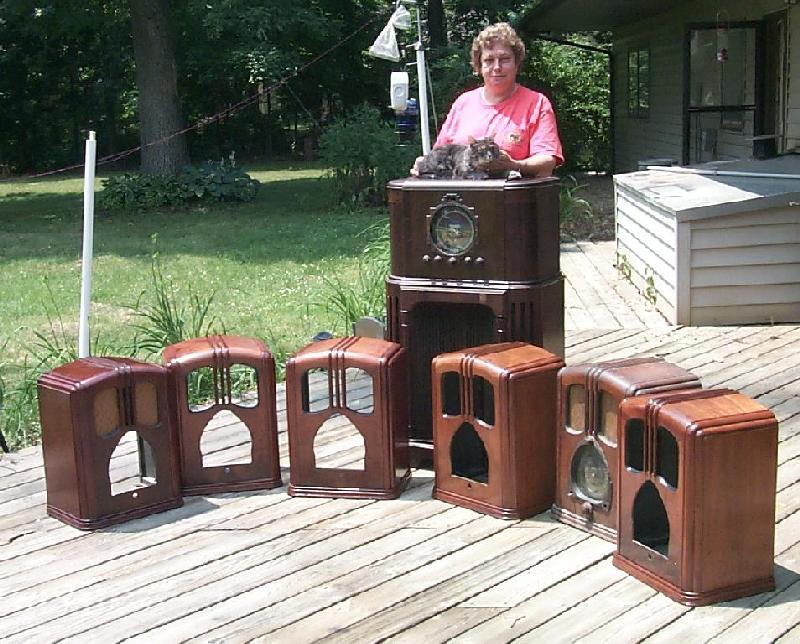 Philco Radiobar restored and the Six Waltons completed!

Time for another very rare radio to be shown for the first time. Yes you have probably seen Setchell Carlson Jet radios.

But you haven't seen one like this one. This is an Export AM + 2 short wave band version. Model 5130
For the rest of the story click the link to the Setchell Carlson Jet model 5130

---
Click Here to listen to our recent interview on local TV

---
Sorry No More Auburn Shows
Auburn Classic and Antique Auto Show
RM Auctions Auction America by RM
in Auburn, Indiana
September 1-4 th 2011
Labor Day Week
Lots of fun over the last 15 years at the Auburn Car Show But time for us to
Retire from the show!!
Next Year We can go the show and be Spectators !!!

Attention Auburn Attendees: we can meet you at the show to handle your
restoration radio needs. Your also welcome to stop at the house 7 miles south
of the show to look over our collection and select a nice old radio to take
home with you.

Click any of the following pictures or this text for link direct to
the Auburn Classic Show....
click on the pictures above to see what this show is all about...
About 350,000 to 400,000 people will attend this 4 day long show...
As well as the Auto's for show and sale the "Flea Market" has
most anything imaginable in it... something around 3000 vendors...



---

If you plant enough aluminum and steel it will begin to grow. Notice the three tall towers in our backyard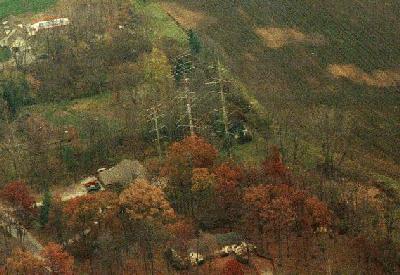 This our latest Antenna Project. Installing a Horizontal Waller Flag Lo-Band Receive antenna. This next page contains pictures as well as a link to a nice Video of the antenna installation.
And yes that is a 100 ton crane in our front yard. So click the picture and Enjoy the Antenna Show.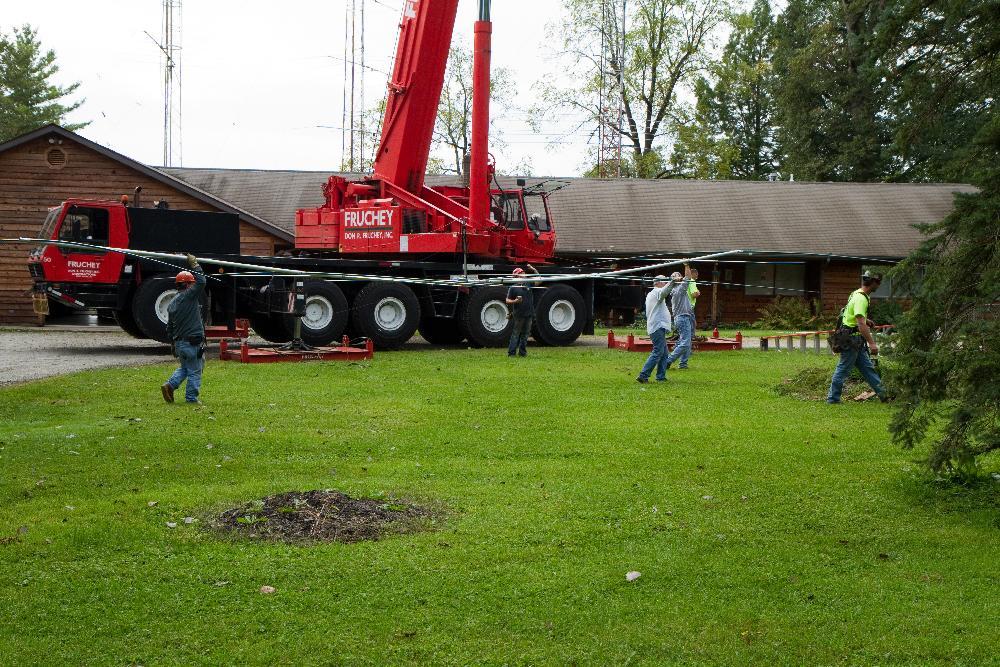 ---
Tour of John & Jeans Restorations
John & Jeans Gallery__ our collection + some we have done for our customers...
Tour Around the House showing our collection
The Real Lone Ranger Radio .....and the story behind it!
Walton Radio and the story behind it........
Walton Radio that ALMOST went to the Landfill.... Before and After Pictures
JUKEBOXES.....ours plus a couple that are "For Sale"
Sold Radios and Customer radios that we restored
Zenith 12s374 Console... and the story about it... this is one rare... really rare radio.
Daves Radios restored by John and Jean during 2009

Philco Radiobar restored and the Six Waltons completed!
Philco Chairside Radios that we have restored!
See the "Slagle 29B Console"...This Radio was built in Ft. Wayne, Indiana in 1929
Restoration on our Zenith 1000Z Stratosphere
Many People ask us what do I need for a really good Antenna on my Antique Radio?
Click here for some examples of what makes a good antenna.

---
---
Contact Information to John and Jean Antique Radio
Summers Winters

John Goller, K9UWA John
Jean Goller, N9PXF Jean
4836 Ranch Rd. 2433 Putter Rd
Leo, IN 46765 Zellwood, FL 32798

E-mail us at: k9uwa@arrl.net
Or also E-Mail us at:

Sorry but you will have to type this one to keep the robot
spammers from filling up our mailbox with worthless spam.
---
Important Links
Other Radio Restorers friends of ours. If we don't have what you want they may have it!
Mike and Linda Stover in Fort Wayne ,Indiana
http://www.mikelindaradioantiques.com/
email to Mike and Linda: N9QR@arrl.net
Kim Herron, W8ZV www.goldenradioservice.com
Email to Kim is: w8zv@goldenradioservice.com
---
---
Links to other Antique Radio pages!!
pictures of another friends collection.... these are Super Radios... all 100% restored by Ted...
Don't be afraid to enter the Radio Stratosphere!!
http://www.radiostratosphere.com/

Home for Anything PHILCO radio related by: Ron Ramirez "Mr. Philco"

Grillecloth HAS RETURNED Click this link to Richmonddesignsinc.com

http://richmonddesignsinc.com/





Antique Radio Resources Online Over 400 Antique Radio web pages
Antique Radio Supply Online
RadioDaze many parts for old radios


Parts-Supplies-Radios-For-Sale+Lots of Links to Other Antique Radio Sites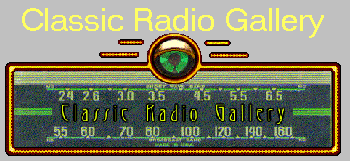 Lots of Very Nice Radios at this site.!! My Friend MJ



Want to listen to some Old Radio Shows... on your computer... try here..


---

Suppliers, Where to get Parts, How to Fix Old Radios,
First is a FREE OnLine E-Book written by Richard McWhorter. This book will explain how to repair your old radios. It explains what test equipment you will need and
how to use that test equipment. So Click here. Download the book. Save it... read it and enjoy it. Lots of work went into writing this E-Book by Richard McWhorter Offered
here by persmission of Richard McWhorter.

---
Schematics, Parts Suppliers, Radios 4 Sale ... nice Web Site

Phil's Old Radios. Phil has a nice section for beginners.
Need some Chrome Work done for your Scotts and McMurdo Radios? These people are GOOD
Advanced Plating 1425 Cowan Ct. Nashville, TN

---
DX-Peditions Upcoming
More important Links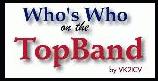 To borrow a Quote from Garry NI6T
"160 not a band but an obsession"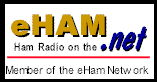 Packet Radio Cluster Connections
Photos of Ham Radio Operators, Ham Shacks, Antenna Farms, Contest Stations,
Ham Collectibles, and anything related to Amateur Radio. see it all at K8CX's Ham Gallery